Spinal Cord Injuries Caused by Motor Vehicle Accidents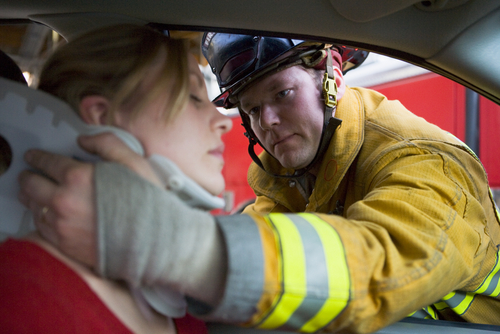 According to the Centers for Disease Control, motor vehicle accidents are the cause of 46% of spinal cord injuries. Motor vehicle accidents can be caused by all sorts of factors: distracted driving, driving under the influence, a poorly maintained vehicle (i.e. bad brakes, etc.), speeding, road rage or aggressive driving, driver fatigue, driver error, etc. But whatever the cause, if you or a loved one has suffered a spinal cord injury as a result of an auto accident, trucking accident, bus accident, bicycle accident or motorcycle accident, it is imperative you have an experienced legal team on your side.
At The Law Offices of John Day, P.C. our award-winning attorneys are highly-skilled at investigating motor vehicle accidents like tractor-trailer crashes. We know how to carefully preserve evidence so there is not a spoliation of evidence issue that prevents you from receiving the compensatory damages you and your family deserve. We also ensure every avenue of recovery including product liability, uninsured motorist coverage, liquor liability and punitive damages are considered and pursued, if appropriate, in your case.
If you or a loved one has sustained a spinal cord injury in a bus, tractor-trailer, car, bicycle or motorcycle accident, do what our satisfied clients have already done: call us today to schedule a free, no-obligation consultation. We handle all spinal cord injury cases on a no-fee unless we win basis. Contact us online or call us at 615-742-4880 or toll-free at 866.812.8787 to discuss the compensatory damages and punitive damages you may be entitled to receive for your injuries.