Trucking Accidents
The Truck Accident Attorneys at The Law Offices of John Day, P.C. Protect Injury Victims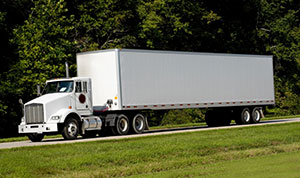 Without a doubt, trucks are vitally important to the U.S. economy. The industry adage is: "if you bought it, a truck brought it." But all too often, these big trucks cause serious wrecks as they criss-cross the multiple interstates of Tennessee. The average passenger car weighs roughly 5,000 lbs. and a tractor-trailer weighs up to 80,000 lbs, so it easy to see which vehicle is going to bear the brunt of the impact. Serious injuries and death can easily result from trucking accidents. In Tennessee alone, there were 1,661 large trucks involved in fatal crashes between 1994 and 2005. 1,785 people lost their lives in those Tennessee accidents -- an average of 148 fatalities per year. Tragically, the number of fatal accidents in Tennessee has been on the rise. From 1995 to 2005, there was a 21/% increase.
We Are Your Ally When You've Been in a Tennessee Truck Accident
If you or someone you love has been injured in a truck accident, you need a trusted ally to immediately:
Investigate the accident on your behalf which may include hiring accident reconstruction experts, taking scene photos, interviewing witnesses, etc.;
Gather all of the relevant evidence from the trucking company including driver's logs, black box data, driver files, etc.;
Collect your medical records and, if necessary, hire medical and damages experts;
Handle all of the necessary paperwork with the insurance company.
Protect your rights in court
Work to ensure you get the maximum compensation possible for you pain and suffering, medical bills, lost wages, property damage, etc.
Contact Us Today and Speak With One of Our Tennessee Truck Accident Attorneys for Free.
We have over 80 years of experience in handling truck accidents, and we are here to help you. Call us any time of day at 615-742-4880 or toll-free at 866.812.8787. We will discuss your case and review your truck accident for no charge. If your injuries prevent you from coming to our office, we will gladly come to your home or the hospital. But, please don't wait. From the moment of the accident, the trucking company, the insurance company and their teams of lawyers have been busy trying to find a way to keep from paying you a cent. The sooner you call us, the sooner you will have an experienced team of truck accident attorneys working to get you the compensation you deserve.