Car Accidents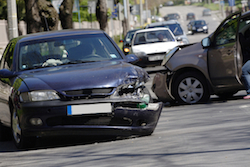 In Tennessee, a person is generally responsible for an automobile wreck if he or she is found to have been negligent. This may mean that the person violated a Rule of the Road (one of the statutory requirements for drivers in Tennessee). It may also mean that the driver did something a reasonable person would avoid, or failed to act as a reasonable person would act under the circumstances.
The Law Offices of John Day, P.C. has a great deal of experience representing victims of car, motorcycle, and truck wrecks. Drivers whose carelessness causes harm to another person should be held responsible for their actions and pay the victims for their losses. To that end, we represent people who have been injured or lost a loved one in recovering from drivers who are at fault.
If you would like to speak with us about a potential automobile accident case, please contact us online or call us at 615-742-4880 or 866.812.8787.