Car Accidents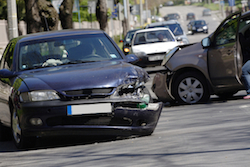 In everyday life, we often say: accidents will happen. But really, accidents only happen when someone is not paying attention or does something wrong. We typically describe it as an "accident" because there is usually a lack of intent to cause an accident or harm another person. For example, a driver changes lanes and hits another car causing a serious accident. The driver meant to change lanes but the driver certainly did not intend to cause an accident and did not intend to harm someone else.

The reality is that tens of thousands of Tennesseans are hurt or killed every year in car accidents. In fact, there are enough car accident injuries and deaths in Tennessee each year to fill both Vanderbilt University's football stadium (39,790 person capacity) and Middle Tennessee State's football stadium (30,778 person capacity). Those numbers are staggering. And the worst part, all of those deaths and all of those injuries were preventable.
In Tennessee, a person is generally responsible for an automobile wreck if he or she is found to have been negligent. This may mean the person violated a Rule of the Road (one of the statutory requirements for drivers in Tennessee). It may also mean that the driver did something a reasonable person would avoid, or failed to act as a reasonable person would act under the circumstances.
Sometimes it may seem obvious as to which driver did something wrong such as a driver going the wrong way down a road. But often, there can be more to the story and maybe more than one at-fault party. For instance, maybe the driver that was going the wrong way had too much to drink at a local bar or restaurant. Depending upon the circumstances, the bar may be responsible for the accident too.
At the Law Offices of John Day, P.C., our award-winning attorneys represent car accident victims every single day. We can determine who is at fault and, just as importantly, help you hold them accountable and maximize your financial recovery. Drivers whose carelessness causes harm to another person should be held responsible for their actions and pay the victims for their losses.

What Should You Do and What Shouldn't You Do in a Car Accident?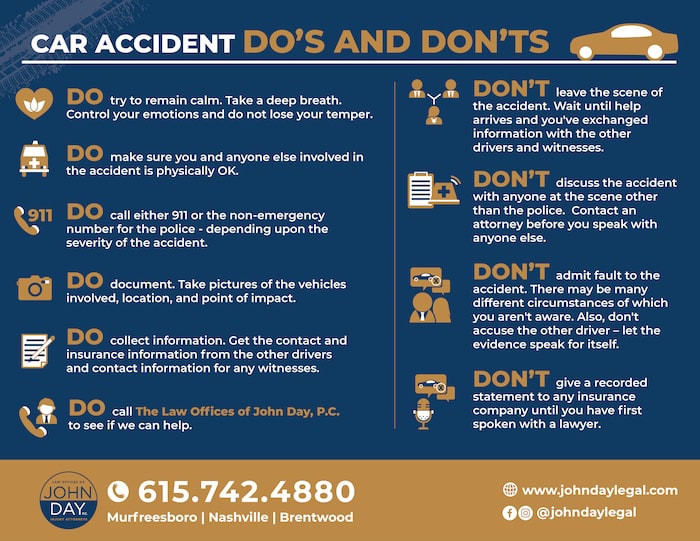 Click Here to Download a Printable Version
It is important to secure legal help in cases of serious injuries caused by car accidents. Many times insurance companies will try to settle with you before you seek a lawyer. Do not sign any papers until you have consulted an experienced car accident lawyer. Your time to file a lawsuit is limited by the statute of limitations so it is imperative to seek legal help as soon as you can. For more information on deadlines, read our What Are the Deadlines for Filing an Injury Claim in Tennessee page.

It does not cost you anything to find out if you have a valid claim because we offer a free, no-obligation initial consultation. And, we handle all car accident cases on a contingency basis so we only get paid if we recover money for you. Just as importantly, we advance all case expenses so you never have to pay anything out-of-pocket to pursue your rights.

Please contact us online or call us at any of the numbers below for a free consultation to see if we can help. We represent injury victims and their families across the State of Tennessee from our three office locations:
Nashville: 615-669-3993
Murfreesboro: 615-867-9900
Brentwood: 615-742-4880

Toll-Free: 866-812-8787