Rollover Accidents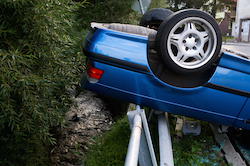 Rollover accidents have a higher fatality rate than most other forms of car accidents. In fact, rollover accidents are responsible for 33% of all accident fatalities. Ejections, roof crush, pillar collapse, latch failures, etc. are likely to occur in a roll-over accident. Tragically, 10,000 individuals a year will lose their life in a rollover accident, according to the National Highway Traffic Safety Administration.

There are many causes of rollover crashes including:
Over-correction – For whatever reason, the tires of the vehicle drop off the edge of the roadway. In an effort to correct the problem, the driver turns the steering wheel to bring the wheels back on the roadway but over-corrects and goes too far the other way. Thereafter, the driver may over-correct again. During this process, the tires will often travel at a 90-degree angle to the vehicle's direction. As a result, the tires will de-bead causing the rim to gouge into the pavement and "trip" the vehicle into a rollover.
Road Hazards – Tires can blowout when they hit a road hazard. Following the tire blowout, the driver will lose control and a rollover accident ensues.
Tire-Related – There are 11,000 tire-related crashes each year. The causes range from underinflated tires, overloaded tires, defective tires, negligent tire repair, old tires that have deteriorated, etc. If a tire blows out, a rollover accident can follow.
Speed – Excessive speed is involved in over 40% of fatal rollover crashes.
Alcohol – Approximately 1/2 of all fatal rollover crashes involve alcohol. Alcohol impairs reaction time, judgment, vision and coordination making it more difficult to properly operate a vehicle especially in an emergency situation like a tire blowout from a road hazard.

Vehicle Design – Vans, trucks and SUVs all have a higher center of gravity than cars. The higher center of gravity in turn affects the vehicle's stability. If the vehicle has electronic stability control, it is significantly less likely to rollover. In fact, the National Highway Traffic Safety Administration estimates electronic stability control will save up to 9,600 lives and 238,000 injuries per year if installed on all light vehicles. Depending upon a number of issues, you may have a product liability claim as a result of a rollover accident.
Loading – The amount of weight and its distribution in your vehicle also affect stability and susceptibility to a rollover crash.
Rollover accidents are violent events and often result in catastrophic injuries and death. If you or a loved one has been hurt in a rollover crash and would like to discuss your case with one of our top-rated attorneys, please give us a call for free, no-obligation consultation. We will gladly review your case, answer your questions and explain your legal rights and options. We handle all accident cases on a contingency basis so we only get paid if we recover money for you. We have recovered millions and millions of dollars for our satisfied clients and we would like to help you too. Contact us online or by calling us anytime at:
Nashville: 615-669-3993

Murfreesboro: 615-867-9900
Brentwood: 615-742-4880

Toll-Free: 866-812-8787