Distracted Drivers
Let's face it: it is all too common for drivers to focus on something other than safely operating their vehicle. Distracted driving is one of the biggest factors in car accidents in the United States. Distracted driving takes many forms:

Drivers are texting on their cell phones, and sending and reading emails on their smart phones. Of course, since July 2019, it has been illegal to hold your phone while driving in Tennessee.

Lost or just planning a route, drivers look up directions on a GPS, car navigational system, or mapping software on their cell phones like Google Maps or Waze.
Wanting to change music, drivers scroll through options on their phone or Sirius radio, etc.

Drivers scan the roadside for restaurants or shops nearby, taking their eyes off the roadway and cars ahead.
With passengers on board, drivers turn to talk, or to pick up a toy for a child in the backseat.
Drivers take their hands off the wheel to change clothes, open a sealed container, or eat and drink food.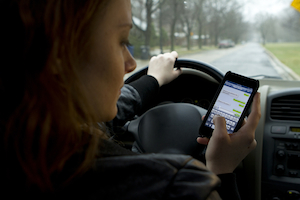 Each of those drivers is ignoring their primary responsibilities on the roadway, which is to be safe and to avoid an accident. The first priority of every truck, bus, motorcycle and car driver must be paying attention at all times and taking any appropriate steps to protect themselves, their passengers, other drivers, bicyclists and pedestrians.
The law is clear: every driver has a responsibility to keep a lookout for other vehicles and dangers, and to use reasonable care to avoid an accident. Under Tennessee Code Annotated section 55-8-136, all drivers are required to use due care at all times, and regardless of the road signs, to stay within a safe speed and keep proper control over the vehicle. It is specifically illegal to send or read text messages and emails on a smart phone while driving a moving car or truck. Broader than that, however, the law says unequivocally that a driver's job is "devoting full time and attention to operating the vehicle...." Tennessee Code Annotated section. 55-8-136.
Unfortunately, distracted driving continues to be a leading cause of car accidents. If you or a loved one has been injured by a distracted driver, you need one of our experienced attorneys fighting to ensure you get the compensation you deserve for your pain and suffering, medical bills, lost wages, permanent impairments (if any), scarring (if any) and other damages. We have recovered millions and millions of dollars for our satisfied clients and we are here to help you and your family too. Before hiring any lawyer, even us, we encourage you to do your homework and review some of our FAQ pages:

How to Select an Injury Attorney
How to Prepare for a Meeting with an Injury Attorney
Deadlines for Filing an Injury Claim in Tennessee

We represent clients throughout the State of Tennessee. We offer a free, no-obligation consultation, and our award-winning lawyers handle all injury cases on a contingency basis so we only get paid if we win. To get started, contact us online or call us anytime at:

Nashville: 615-669-3993
Murfreesboro: 615-867-9900
Brentwood: 615-742-4880
Toll-Free: 866-812-8787