Wrong Way Accidents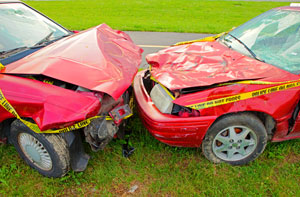 Wrong-way accidents are almost always serious, and it is easy to see why. Two vehicles traveling at moderate to high speeds usually have very little pre-impact reaction time to brake or take other evasive action so the resulting head-on collision creates significant impact forces and substantial intrusion into the occupant compartments of both vehicles. Catastrophic injuries and death are often the result of wrong-way accidents.
One of the most common causes of wrong-way accidents is drivers who are under the influence of either drugs or alcohol. But, this is certainly not the only reason. Missing or improperly placed signage, heavy vegetation or poor lighting which obscures signage, road construction which alters normal traffic flow, out-of-town drivers who are unfamiliar with a particular roadway and distracted drivers can all cause wrong-way accidents. And sometimes, these causes combine to cause a terrible wrong-way accident. For instance, a driver who is tipsy or buzzed may get confused in a construction zone that has not been properly marked and cause a wrong-way accident.
To prevent wrong-way accidents, some cities are using embedded sensors, videos and flashing lights to help prevent and study wrong-way accidents. When the sensors embedded in the pavement detect a vehicle going in the wrong direction, mounted signs on both sides of the ramp flash red and yellow lights and a "Wrong Way" message. The video also begins recording the event to give investigators more information about how and why the driver was driving in the wrong direction. Other states are installing a second set of Wrong Way/No Entry signs to give drivers a second chance at realizing their mistake. But like so many things, budget constraints prevent these devices from being widely used.
If you or a loved one has been injured in a wrong-way accident, one of our award-winning lawyers can help you and your family determine the cause of the wrong-way accident and help you recover compensatory damages and, if appropriate, punitive damages from all responsible parties. At The Law Offices of John Day, P.C. we have recovered millions and millions for our satisfied clients and we would like to help you too.
If you would like to better understand your legal rights and options following a wrong-way accident, please contact our office for a free and without obligation consultation on your potential case. We handle all wrong-way accident cases on a contingency basis which means we only get paid if we win. And unlike some lawyers, we advance all case expenses interest-free so you are never out of pocket any money to pursue your rights. We represent clients across the State of Tennessee. And, as always, if you are unable to come to us for any reason, we will come to you.

To get started, simply fill out this form or call us at one of the numbers below:

Nashville: 615-669-3993

Murfreesboro: 615-867-9900
Brentwood: 615-742-4880

Toll-Free: 866-812-8787

To help you understand the legal process better, we have explained a lot of common legal issues on our FAQ page. Some of the most popular pages are below:

How to Select an Injury Attorney

What Are the Deadlines for an Injury or Death Claim in Tennessee?

What Happens After I Hire You as My Lawyer?

How to Prepare for a Meeting with an Injury Lawyer