Drunk Drivers and Intoxicated Drivers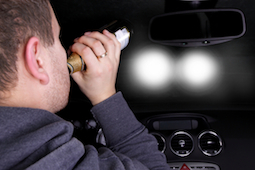 Drunk driving continues to be a problem in the State of Tennessee and across the country. Approximately 30% of all fatal car accidents are caused by a driver who is under the influence. Of course, it is a crime in Tennessee to drive a truck or car while under the influence of alcohol, marijuana, or any other drug that impairs safe driving. Tennessee Code Annotated section. 55-10-401. Driving with a blood alcohol content (or BAC) of 0.08% or more is also illegal, and creates a presumption the driver was too impaired to operate a motor vehicle. Tennessee Code Annotated section. 55-10-401 and 55-10-408.
A drunk or otherwise intoxicated driver who causes an accident can be held accountable for any injuries or death under Tennessee law. First, common sense says that driving under the influence is careless, and that means it is negligent. Second, violating a statute, like the Tennessee statutes referenced above that prohibit driving under the influence, is called negligence per se. That means a driver with a BAC of 0.08% or more, or who is otherwise too intoxicated to drive, is negligent by that act alone and responsible for the harm caused by their actions or inaction.

A drunk or intoxicated driver often may be liable for recklessness. Negligence simply means acting unreasonably. Recklessness, on the other hand, means being aware of and consciously disregarding a substantial and unjustifiable risk of harm. While a person who negligently causes injury or death can be held responsible for repaying the victim's losses (compensatory damages), a person who recklessly causes injury or death can also be punished by being forced to pay the victim more money than what is necessary to make up for the harm. An additional payment to the victim as punishment is what is known as punitive damages.
If the impaired driver was served too much alcohol at a bar, restaurant, theater or other commercial establishment, it may be possible to bring a liquor liability claim against the person and company who over-served the impaired driver.

The award-winning attorneys at the Law Offices of John Day, P.C. have successfully represented victims whose lives have been lost or forever changed as a result of drunk driving. If you or someone you know has suffered at the hands of a drunk or intoxicated driver, you need legal help from an experienced lawyer. Before hiring any lawyer, including us, do you homework as it is a critically important decision. We encourage you to read our FAQ pages including:

How to Select an Injury Attorney

What Are the Deadlines for Filing an Injury or Death Claim in Tennessee?

How to Prepare for a Meeting with an Injury Lawyer
Then, when you are ready, give us a call. We have recovered millions and millions of dollars for our satisfied clients and we would like to help you too. When you call, we will discuss your case with you in a free, no-obligation consultation where you can better understand your legal rights and options. If you decide to hire us, we handle all accident cases on a contingency basis so we only get paid if we recover money for you. Some injury lawyers require you to pay the case expenses out of pocket or charge interest if they advance the case expenses. Instead, we advance all case expenses interest-free. To get started, contact us online or call us at:

Nashville: 615-669-3993
Murfreesboro: 615-867-9900
Brentwood: 615-742-4880
Toll-Free: 866-812-8787
While our offices are in Middle Tennessee, we help injury victims across the State.