Attorney's Fees and Costs for Injury and Death Cases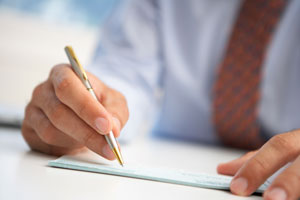 At The Law Offices of John Day, P.C. we handle all personal injury and wrongful death cases on a contingency basis. That means we only get paid if we win. There is not a consultation fee. There are no hourly charges for lawyers and paralegals. And, we never ask you to pay anything out of pocket for litigation-related expenses to pursue your case even though those expenses can sometimes be substantial.

Instead, as we prepare your case, we will advance all pre-litigation and litigation expenses. Some lawyers will not advance these expenses but instead require their clients to obtain litigation loans to cover these costs. Litigation loans typically have very high interest rates and we do not believe they are in our clients' best interests. So, we advance those costs for you and, unlike other firms, we do not charge any interest whatsoever.

Below are some examples of these types of expenses that may be incurred in your case:
Pre-Litigation Expenses
Costs of obtaining accident reports
Costs of obtaining medical records and imaging studies (x-rays, CT scans, etc.)
Fees charged by doctors or other experts for consultation or reports
Copying costs
Postage and shipping charges
Mileage charges
In the vast majority of cases, the pre-litigation expenses are quite low. The exceptions to the general rule are health care liability (medical malpractice) and product liability cases.
Litigation Expenses
Fees charged by court reporters for depositions and hearings
Fees charged by videographers for inspections and depositions
Fees charged by medical illustrators and other exhibit companies
Costs of asset searches
Fees for private investigators and process servers
Court costs
Travel expenses for depositions and/or trial
Expert witness
Litigation expenses can be quite high, particularly in health care liability and product liability cases. We can give you an estimate of what we think those expenses will be in your case.
To summarize, if we do not recover any money for you, you do not owe us anything. You do not even have to pay back any of the money we have spent paying for pre-litigation and litigation expenses. We accept the risk of not getting repaid those expenses when we agree to represent you. Our policy allows you to avoid the stress and worry about any attorney's fees or expenses if your case is unsuccessful.
If you would like to discuss a potential personal injury or wrongful death case with one of our award-winning lawyers, you can call us anytime at the numbers below:

Nashville: 615-669-3993
Murfreesboro: 615-867-9900

Brentwood: 615-742-4880

Toll-free: 866.812.8787

or simply fill out this form to schedule an appointment. If you are unable to come to us, we will gladly come to you at your home, the hospital or wherever. For more than 28 years, our law firm has helped thousands of Tennesseans get the compensation they are entitled to receive following an accident. We would be privileged to help you and your family too.