Car Accident with Uninsured or Underinsured Driver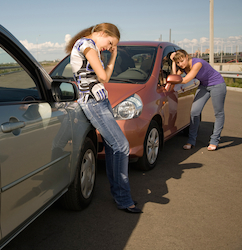 You have had a car accident and you are hurt. That is bad enough. But then you find out the at-fault driver does not have any insurance or does not have enough insurance to cover your losses. Now, what do you do? There are a couple of options.
First, you can still sue the at-fault driver. However, this is usually only advisable if you have reason to believe the at-fault driver has income or assets sufficient to cover your losses. Otherwise, you will simply have a judgment against someone without the wherewithal to pay it. Generally, a person fails to secure car insurance because they have nothing to lose. In other words, they do not have sufficient assets to protect so they figure why go to the expense of purchasing car insurance. However, we frequently see individuals with moderate and sometimes even substantial assets who purchase too little car insurance. For instance, despite owning their own home and having a six-figure income, the at-fault driver only has $150,000.00 in insurance coverage. Under such circumstances, if your losses exceed the amount of the at-fault driver's insurance coverage, you may need to sue them to recover the remainder of your losses.
The second option is to seek recovery from your own uninsured/underinsured motorist coverage. In Tennessee, roughly 24% of the drivers do not have any insurance coverage whatsoever. So if you are involved in an accident with a driver who has zero insurance and little to no assets, you will be responsible for paying your own medical bills and for bearing the costs of your other damages including lost wages, pain and suffering, scarring, etc. But, if you have uninsured or underinsured motorist coverage, then you can make a claim against your own uninsured/underinsured auto policy for these losses.
After a car accident, if you have reason to believe the other driver does not have insurance or does not have adequate insurance, we recommend you contact one of our award-winning lawyers who can review your policy to determine if you have uninsured/underinsured coverage and the steps you should take to protect your rights under that policy. Most uninsured/underinsured policies require prompt notice of a claim so do not delay. We will gladly review your case during a no-cost, no-obligation consultation. And we handle all uninsured/underinsured motorist cases on a contingency basis. Call us anytime at 615-742-4880 or toll-free at 866.812.8787.