Prison Bus Accidents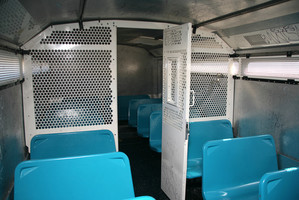 As passengers on a prison bus, guards and prisoners are almost always considered negligence-free. In other words, unless special circumstances exist, these passengers did not play any role in causing the accident. This is contrasted with the prison bus driver who may or may not have been responsible for the accident. Of course, prison bus accidents can occur for many reasons including:
Negligence of the prison bus driver
Negligence of another motorist
Defective equipment on the prison bus which may be the fault of the vehicle manufacturer
Defective tires which may be the fault of the tire manufacturer
Improper maintenance which may be the fault of the prison bus owner or a third-party
Improper repairs which may also be the fault of the prison bus owner or a third-party
Poor road conditions which may be the fault of the State or a third-party construction company
And many others
If you or a loved one has been hurt in a prison bus accident, you need an ally on your side who will fight for the compensation you deserve. At The Law Offices of John Day, P.C. we have been the voice of injury victims for more than 80 years and we are here to help you. We know how to get results -- we have collected more than $100 million dollars for our satisfied clients.
If a governmental entity is responsible for the prison bus crash, special rules apply and the time for bringing a claim is short, so contact our experienced bus accident team today. Call us any time of day at 615-742-4880 or toll-free at 866.812.8787 or contact us online. If your injuries or incarceration prevent you from coming to our office, we will gladly come to you.
Other Bus Accident Information: