Prison Bus Accidents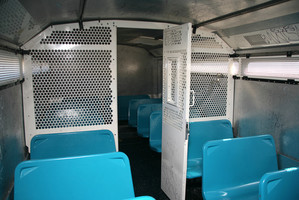 Prison vans and buses are used for many purposes - to transport prisoners to another prison or jail, to transport prisoners to court appearances or a trial, to transport prisoners to a work site, etc. As passengers on a prison van or bus, guards and prisoners are almost always considered negligence-free. In other words, unless special circumstances exist, these passengers did not play any role in causing the accident. This is contrasted with the prison bus driver who may or may not have been responsible for the accident. Of course, prison bus accidents can occur for many reasons including:
Negligence of the prison bus driver
Negligence of another motorist
Defective equipment on the prison bus which may be the fault of the vehicle manufacturer
Defective tires which may be the fault of the tire manufacturer
Improper maintenance which may be the fault of the prison bus owner or a third-party company

Improper repairs which may also be the fault of the prison bus owner or a third-party repair facility

Poor road conditions which may be the fault of the State or a third-party construction company
And many others
If a governmental worker or entity is responsible for the prison bus crash, special rules apply and the time for bringing a claim is short. Of course, that is not the only reason you should contact an experienced injury attorney sooner rather than later after prison van or bus accident. In accidents involving motor vehicles, repairs are made to vehicles and, if the vehicle was totaled, it is sold for salvage. This can irretrievably impair your ability to prove your case. Likewise, markings on roads like skid marks and yaw marks disappear over time with road use and weather. Witnesses may move or their memory of the accident may become foggy. In short, it is imperative that you have someone working for you and your family to ensure that valuable evidence is found and preserved.

At the Law Offices of John Day, our
award-winning
attorneys have been helping injury victims for more than 30 years, and we are here to help you too. We understand that accident victims do not want to pay a lawyer just to find out if they have a valid case. This is why we have always offered a free, initial consultation that is without any obligation. You simply call us and we can help you understand if you have a case as well as your legal rights and options. If we think we can help and you decide to hire us, we handle all prison van and prison bus accident cases on a
contingency basis
so we only get paid if we recover money for you. We also advance all monies needed for case expenses like filing fees, deposition fees, expert witness fees, etc. In short, you do not have to pay anything out-of-pocket to pursue your case.
Getting started is easy, simply contact us
online
or call one of our three convenient Middle Tennessee locations. Our offices are in Middle Tennessee but we represent accident victims across the State of Tennessee. We travel to our clients if they are unable to come to our office for any reason. Give us a call today at:
Nashville: 615-669-3993
Murfreesboro: 615-867-9900
Brentwood: 615-742-4880

Toll-Free: 866-812-8787

Other Bus Accident Information: