Airport Shuttle Bus Accidents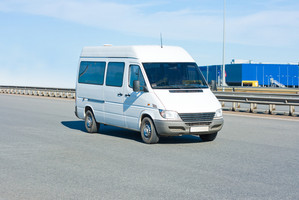 Whether for business or pleasure, a lot of air travel actually starts with a ride on the airport shuttle bus from either an airport parking lot or from an off-site airport parking company. Unfortunately, some trips never make it any further than that due to serious accidents involving airport shuttle buses.
The monotony of driving the same route over and over each day often leads to inattention. CB communications with the base, falling luggage or obnoxious passengers can cause the shuttle bus driver to be distracted. The congestion and constant construction at some of our State's airports like Nashville's airport, BNA, can cause frustration and aggression in drivers. Improper maintenance or defective equipment can cause a loss of control. All of these and many other factors can cause an accident. Worse yet, some of the passengers are standing or they are not wearing a seat belt. In addition, suitcases and other gear can become projectiles inside the cabin during an accident. All of these things can combine to cause serious injuries and even death in a simple airport shuttle ride.
As with any accident, time is of the essence in a bus accident. Valuable scene evidence such as skid marks or yaw marks can be lost in a very short period of time. The airport shuttle bus can be sold for salvage. On-bus videos can be lost or destroyed. Witnesses may move or fail to remember important details. In addition to lost evidence, while you are recovering from the injuries you sustained in your bus accident, the bus company will be busy interviewing witnesses and gathering evidence in hopes of denying or, at least, minimizing your claim. By hiring an experienced injury lawyer quickly, you can have someone working for you who will investigate the accident, demand that crucial evidence is preserved and generally level the playing field so that you can receive the compensation you deserve.

If you have been injured in an airport shuttle bus accident, call The Law Offices of John Day and find out if you have a case in a free, no-obligation consultation. We will answer your questions and help you understand your legal rights and options. Our award-winning attorneys know the law and regulations associated with bus accidents and can help you recover the compensation you deserve. We handle all bus accident cases on a contingency basis which means we only get paid if we recover money for you and your family. So that you are never out-of-pocket to pursue your legal rights, we advance all case expenses and, unlike some injury lawyers, we do so interest-free.

While our offices are centrally located in Middle Tennessee, we help injury victims throughout the State of Tennessee. If you are unable to come to us for any reason, we are always happy to come to you. To see if you have a claim for an airport shuttle bus accident, contact us online or give us a call at:

Nashville: 615-669-3993
Murfreesboro: 615-867-9900
Brentwood: 615-742-4880
Toll-Free: 866-812-8787

Other Bus Accident Information: