Charter Bus Accidents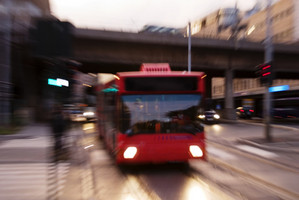 Charter buses are hired for a specific event or purpose. The major benefits are a large group can travel together without the headaches of multiple vehicles, dealing with traffic, paying to park, etc. Most charter buses will even allow, for an extra fee, the passengers to enjoy alcoholic beverages while in transit. Charter buses are typically used for weddings, sporting events, business functions, etc.
While charter buses can be a fun and convenient form of transportation, they can also be dangerous. In 2008, the Federal Motor Carrier Safety Administration reported there were 843,308 registered buses in this country. And, in 2008 alone, there were 24,000 people who were injured or killed in bus accidents.
The most common causes of bus accidents are:
Faulty or defective equipment such as brakes and tires.
Driver fatigue
Improperly trained and/or supervised drivers
Improper maintenance of the bus
Drug and/or alcohol use by the driver
Violations of hours of service requirements by the driver
Violations of rules of the road such as speeding, improper lane changes, etc.
If you or a loved one has been injured in a charter bus accident, contact us today. One of our experienced bus accident attorneys will provide you with a free, no-obligation consultation. We can help you understand who is potentially at-fault for the accident including the bus driver, another motorist, the bus company, an independent repair or maintenance company, a governmental entity or construction company for road conditions, etc. We can also explain the types of compensation available in your case such as damages for pain and suffering, lost wages, medical bills, future medical care, permanent impairments, scarring, loss of enjoyment of life, loss of consortium, etc.
Our bus accident team understands the physical, emotional and financial injuries that result from serious bus accidents, and we will fight to make sure you get the maximum compensation reasonably possible. Contact us online or call us anytime at 615-742-4880 or 866.812.8787.
Other Bus Accident Information: