Charter Bus Accidents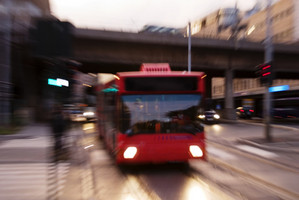 Charter buses are buses that are hired for a specific event or purpose. The major benefits are a large group can travel together without the headaches of multiple vehicles, dealing with traffic, paying to park, designating a sober driver, etc. Most charter buses will even allow, for an extra fee, the passengers to enjoy alcoholic beverages while in transit. Charter buses are typically used for weddings, sporting events, school events and business functions, etc.

While charter buses can be a fun and convenient form of transportation, they can also be dangerous. There are some steps you can take to try and ensure a safe charter bus experience:

1. Research the bus company that you are considering hiring for your event. You can do this on the FMCSA website. You can research by the company name or, because a lot of company names are alike or very similar, you can search by USDOT number. If you have not selected a bus company yet, you can search for one using your preferred type of vehicle. The site will tell you whether there is a history of safety problems, whether the company has a good record on maintaining and repairing their fleet and whether they hire qualified drivers with good driving records. A safety rating of "Satisfactory" is the highest rating. If the bus company has a bold red alert then the company is not allowed to operate.

2. Before you start traveling, investigate onboard emergency and safety equipment and wear your seatbelt if the bus is moving. Please note that the failure to wear a seatbelt is NOT admissible in most auto accidents cases in Tennessee. For more information on that issue, we encourage you to visit our Vehicle Accidents and Seatbelts page.

3. During your charter bus trip, if you notice any safety problems, report them both to the charter bus company (not just the driver) and also to the FMCSA. The hotline number is 888-DOT-SAFT (1-888-368-7238) or you can use the FMCSA's consumer complaint site (http://nccdb.fmcsa.dot.gov)

If you or a loved one has been injured in a charter bus accident, contact us today. At the Law Offices of John Day, we offer a free, no-obligation consultation so that you can learn more about your legal rights and options without spending any money. We can help you understand who is potentially at-fault for the accident including the bus driver, another motorist, the bus company, an independent repair or maintenance company, a governmental entity or construction company for road conditions, etc. We can also explain the types of compensation available in your case such as damages for pain and suffering, lost wages, medical bills, future medical care, permanent impairments, scarring, loss of enjoyment of life, loss of consortium, etc.
Our award-winning lawyers understand the physical, emotional and financial injuries that result from serious bus accidents, and we will fight to make sure you get the maximum compensation reasonably possible. Contact us online or call us anytime at one of the numbers below. Our offices are centrally located in Middle Tennessee so that we can represent charter bus accident victims anywhere in the State.
Nashville: 615-669-3993
Murfreesboro: 615-867-9900

Brentwood: 615-742-4880
Toll-Free: 866-812-8787

Other Bus Accident Information: