Bus Crash Statistics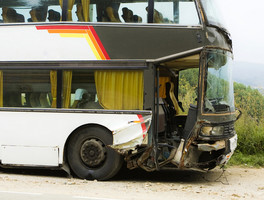 According to the United States Department of Transportation, there are roughly 183 bus crashes per day and almost 67,000 per year. In an effort to understand why so many bus crashes were occurring, the Federal Motor Carrier Safety Administration studies bus crashes and offers its conclusions on the causes of the crashes in a report to Congress.

The causes are diverse and include: hours of service violations, inadequate surveillance by the driver, following too closely, inattention, reckless driving such as excessive speed or running red lights, etc. In short, the report confirms the vast majority of bus accidents are preventable if the driver is provided a safe vehicle and then exercises good judgment. Despite being paid to transport people safely, some bus drivers simply do not take that obligation seriously and drive distracted or when they are too tired and over their service hours, etc.

The bus company is responsible for the acts or omissions of their drivers. They may also be separately responsible if they failed to adequately investigate their driver's training and history or they failed to train the driver properly. Or, the bus company may have failed to properly maintain their bus line. Perhaps, the brakes or tires should have been replaced due to wear and tear and they failed to do it in a cost-saving measure. Or perhaps they substituted used and inferior parts to repair a problem.

The causes of bus accidents are varied and can be complex, which is exactly why you need an experienced law firm to help you recover the compensation you deserve. We know that there are a lot of injury law firms out there for you to choose from. Before you hire any of them, do some research. We offer free Legal Guides on How to Select a Personal Injury Lawyer so that you know what questions to ask. We want you to find an experienced injury lawyer, even if it is not us. We also have more information on our FAQ page like How to Prepare for a Meeting With an Injury Lawyer and What Happens After I Hire You as My Injury Attorney, etc.

For more than 30 years, our award-winning attorneys have helped injury victims determine why an accident happened, who is at fault and then hold those persons and companies accountable. If you have been injured in a bus accident case and would like to better understand your legal rights and options, we offer a free, no-obligation consultation. If we think we can help and you decide to hire us, we handle all accident cases on a contingency basis which means we only get paid if we recover money for you. So that you do not have to pay a nickel out-of-pocket, we even advance all case expenses.

If you have been involved in a bus accident, do not let yourself be just a statistic. By holding the at-fault parties responsible, you not only recover the compensation you deserve but you may also deter similar negligent conduct in the future. To get started, give us a call at one of our Middle Tennessee office locations. Our offices are centrally located in Middle Tennessee which allows us to help injury victims across the State of Tennessee.

Nashville: 615-669-3993
Murfreesboro: 615-867-9900
Brentwood: 615-742-4880
Toll-Free: 866-812-8787

Other Bus Accident Information: