Bus Crash Statistics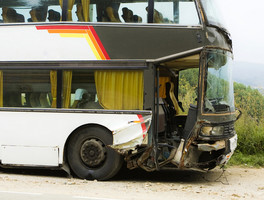 According to the Federal Motor Carrier Safety Administration's bus crash statistics, in 2012 alone, 280 people were killed in bus crashes and another 23,000 were injured. In an effort to understand why so many bus crashes were occurring, the Federal Motor Carrier Safety Administration studied 40 bus crashes and offered its conclusions on the causes of the crashes in a report to Congress.

The causes included: hours of service violations, inadequate surveillance by the driver, following too closely, brake failure, inattention, etc. In short, the report confirms the vast majority of bus accidents are preventable if the driver is provided a safe vehicle and then exercises good judgment. See a complete copy of the report here.

If you have been involved in a bus accident, do not let yourself be just a statistic. By holding the at-fault parties responsible, you not only recover the compensation you deserve but you may also deter similar negligent conduct in the future. For more than 80 years, we have been the voice of injury victims, and we are here to help you too. Contact us online or call us anytime at 615-742-4880 or toll-free at 866.812.8787.
Other Bus Accident Information: