Church Bus and Church Van Accidents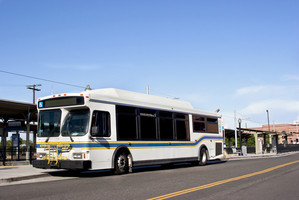 Many churches use small buses and 15 passenger vans to help elderly or disabled parishioners get to services each week. Or, the church might use their buses and vans to take members of the congregation to a retreat or special event. Unfortunately, church buses and 15-passenger vans are not immune to accidents.
The causes of church bus and van crashes are numerous:
Negligence by the driver of the church bus or van
Negligence by another motorist
Improper maintenance or repairs of the church bus or van by a service company
Defective equipment on the vehicle which may be the responsibility of the vehicle manufacturer
Defective tires which may be the responsibility of the tire manufacturer
And many others
Of course, no parishioner wants to sue their church, but most churches have insurance for exactly these types of accidents. And, the crash may have been the fault of someone outside the church like the vehicle manufacturer or a repair facility.
Regardless of who was at fault, you need compensation for your injuries as medical bills are piling up and you are unable to return to work because of your injuries. At The Law Offices of John Day, P.C., we are sensitive to your relationship with the church, but we can also help you recover the money you need to put your life back together after a church bus or church van accident.
Because church van accidents happen too frequently, the National Highway Traffic Safety Administration (NHTSA) has re-issued warnings to church groups using 15-passenger vans. The agency warned that tire maintenance is paramount to preventing rollover crashes and other accidents. Church groups should be sure to use appropriately-sized tires, and the tires should be checked for proper inflation before every trip. Because a lot of church groups use their buses relatively infrequently (one or two days per week) for short, local drives, the NHTSA cautioned the tires can degrade over time even if they have not seen a tremendous amount of mileage. In fact, the NHTSA echoed the warning of most tire manufacturers -- tires older than 10 years should not be used at all. Finally, the NHTSA offered the following safety tips for anyone planning a church trip in a 15-passenger van:
If you are the owner, make sure the vehicle is properly maintained.
Drivers should be fully trained and experienced in operating a 15-passenger van as the handling capabilities are different.
15-passenger vans are very sensitive to loading so great care should be exercised to ensure the vehicle is not overloaded. Overloading increases rollover risk and makes the vehicle less stable in other handling situations.
Owners should ensure properly sized tires are being used on the vehicle and that the tires are properly inflated. Before each trip, the driver should check the tires for wear or other problems.
Because of the increased risk of rollovers with 15-passenger vans, it is even more critical for passengers to wear their seat belts to protect against ejection in a rollover.
If you or a loved one has been injured or killed in a church bus or church van accident, contact our highly experienced team of bus accident attorneys and let us provide you with a free, no-obligation consultation to discuss your bus accident. We have recovered more than $100 million dollars for our clients and we would like to help you too. Contact us online or call us anytime of day at 615-742-4880 or toll-free at 866.812.8787.
Other Bus Accident Information: