Motorcycle Defects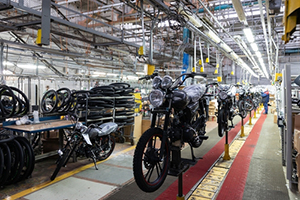 One of the potential claims arising out of a motorcycle accident is that the accident was caused by some unreasonably dangerous or defective condition of the motorcycle itself. This is called a product liability claim. In simplest terms, this is a claim that some part of the motorcycle was faulty and did not perform as it should.

Under Tennessee law, motorcycle manufacturers are prohibited from selling motorcycles that are "defective or unreasonably dangerous", as those terms are defined by Tennessee statutes. From time to time, the National Highway Traffic Safety Administration (NHTSA) or the vehicle's manufacturer will issue a safety recall of certain motorcycles that have been determined to create some sort of hazard. You can check this National Highway Traffic Safety Administration webpage to see if there are any investigations into defects for a particular model of motorcycle. Or, the defect may be in a component part such as a tire. It probably goes without saying that a defect in a motorcycle tire that causes the tire to fail will have severe and perhaps deadly consequences for the motorcyclist and his or her passenger.

There are countless other examples. What is important for you to know is that if you suspect a problem with your motorcycle contributed to cause a wreck it is essential that you: (a) keep all of the parts of the motorcycle; (b) not attempt to do any testing of the parts on your own; and (c) hire one of our award-winning attorneys as soon as possible.
First, it is important to keep all of the parts of the motorcycle because it will be very difficult to prove the existence of a defect without having the motorcycle and its component parts. For example, if the rear tire blew out causing you to lose control, it is important to keep the tire or the pieces remaining of the tire as well as the rest of the bike. Do not allow the tire to be lost. Do not repair the bike and do not let the bike be sold for salvage. Keep the bike and as many parts of it as you can find in a secure, dry place. Do not let it be exposed to the elements or animals.
Second, do not attempt to conduct your own test of the component or components of the bike you believe failed. The simple fact of testing may alter or destroy evidence, and doing so may negatively impact your right to recover damages. Keep the evidence in the exact same condition as it was when you found it after the accident.

Third, one of our experienced motorcycle accident lawyers can guide you through this process. We know who to hire to conduct an appropriate test and how the testing can be done to avoid any claims that the evidence has been unfairly altered. We will interview witnesses and gather other information essential to prove what happened and who is to blame.

With more than 100 years of combined experience, we have represented bikers and motorcycle passengers in all types of cases. We are former bikers ourselves and we understand how to investigate cases involving a potential claim for a faulty motorcycle and how to avoid a claim by an insurance company that evidence has been altered or destroyed. We are available for a free consultation and, if we believe your case has merit and you decide to hire us, we will accept representation on a no recovery, no fee basis. Contact us online or call us anytime of day at one of our Middle Tennessee offices. While our offices are centrally located in Middle Tennessee, we represent motorcycle accident victims across the State of Tennessee - from Memphis to Johnson City. To get started, just give us a call:

Nashville: 615-669-3993
Murfreesboro: 615-867-9900
Brentwood: 615-742-4880
Toll-Free: 866-812-8787