Why Uninsured Motorist Insurance Coverage is Essential for Motorcyclists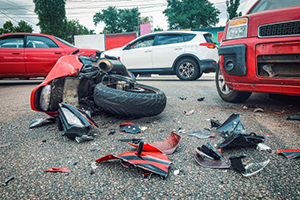 Uninsured (UM) and underinsured (UIM) motorist insurance coverage is essential for the protection of motorcyclists and their passengers. UM protects you when you are harmed by the negligence of a person who does not have any liability insurance. UIM protects you to the extent that the negligent driver has some liability insurance but an insufficient amount of insurance coverage to fully compensate you for the harm he or she causes.
In Tennessee, the law requires every vehicle have liability insurance in the amount of $25,000 per person and $50,000 per accident. But how does this actually work? If a person who has this amount of liability insurance coverage causes a wreck and hurts another person, the liability insurance company will pay up to $25,000 toward the damages suffered by any one person and up to $50,000 in damages for all people hurt in the accident.
So why would you need UM or UIM coverage if Tennessee law requires every vehicle to have insurance coverage? There are two reasons. First, lots of people violate the law and do not have any liability insurance. In Tennessee, recent data indicates 24% of drivers have no liability insurance whatsoever. That means if you are struck by another vehicle there is almost a one in four chance the other driver is uninsured! If you do not have UM/UIM insurance coverage on your motorcycle and the at-fault driver has no insurance or personal assets, you will be responsible for your medical bills and you will bear the loss of your lost wages and all other damages. In other words, you almost certainly will not recover any money to compensate you or your passengers. To be sure, you can attempt to seize the assets of the careless driver but most people who have any assets of note will have car insurance. So conversely, if the careless driver does not have insurance, they most likely do not have any assets that can be used to compensate you for your injuries.

As for UIM insurance coverage, this is when other people have insurance coverage but they do not have the enough insurance coverage for the harm they cause. Even if the at-fault driver has the required amount of insurance, $25,000 does not go very far. It is not uncommon for a relatively minor emergency room visit to result in more than $5,000 in medical bills, and a few days in the trauma unit can quickly give rise to $50,000 in medical bills. Thus, UM/UIM coverage is important for all vehicles, but it is especially important when you are on a motorcycle because the lack of protection for both the driver and the passenger increases the risk of serious injury in the event of a crash.
How much UM/UIM insurance should you purchase to protect yourself and your passenger from financial loss in the event of a motorcycle accident caused by an uninsured or underinsured motorist? We recommend you purchase as much as you can afford. Ask your agent to quote several different levels of coverage - you will be surprised at how inexpensive the coverage is. Then, pick an amount of insurance coverage that works with your overall budget, keeping in mind the extra risk of injury and financial loss you face in the event you have a wreck on your motorcycle.
The award-winning attorneys at the Law Offices of John Day have significant experience in motorcycle accident and UM/UIM cases. We know that a prompt investigation is important and we are available seven days a week. In appropriate cases, we hire other experts such as engineers who have training in accident reconstruction to assist us in proving your case.

We offer a free consultation for motorcycle accidents, and we represent motorcycle accident victims and their families on a contingent fee basis, which means we only get paid if we win. And, we advance all case expenses so you are never out pocket any money to pursue your rights. Contact us online or call us anytime of day for a free, no-obligation consultation. We have three convenient Middle Tennessee locations and, as always, we will come to you anywhere in the State of Tennessee if for any reason you cannot come to us.

Nashville: 615-669-3993
Murfreesboro: 615-867-9900
Brentwood: 615-742-4880
Toll-Free: 866-812-8787