Passenger Claims Against Intoxicated Motorcycle Drivers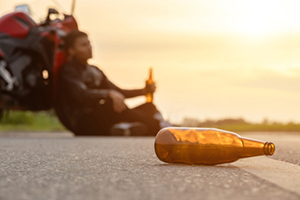 Everyone who gets on the back of a motorcycle as a passenger has a duty to exercise reasonable care for his or her own safety. Under Tennessee law, a motorcyclist (and any other driver) is presumed to be operating the vehicle under the influence of alcohol if the blood alcohol concentration (BAC) equals exceeds .08. To be sure, the amount of alcohol one can consume and still stay under the lawful limit depends on many factors, including gender, age, weight, the time period of alcohol consumption, etc. If you get on a motorcycle with a motorcycle driver who later tests above the legal limit for alcohol, many people will assume (often unfairly) you should have known the driver was impaired. Of course, the level of impairment is a big factor. For example, a BAC of .83 is significantly different than a BAC of 2.2

Other factors are also important in determining whether you have a case. For example, if the passenger was not present when the motorcycle operator was drinking and the operator did not show visible signs of intoxication upon picking up the passenger, the passenger has a stronger case. Similarly, if the facts of the accident make the alcohol use immaterial, the passenger's case is unlikely to be affected. For example, if the motorcycle was hit from behind while sitting at a red light, then the motorcycle driver's alcohol use is not particularly relevant.

But one thing is for sure, if you get on a motorcycle with a motorcycle driver who shows visible signs of being under the influence of alcohol, it will be argued that you failed to exercise reasonable care for your own safety. Likewise, if you as the passenger are also are under the influence of alcohol, it will be argued you lacked the ability to appropriately judge the impact of alcohol consumption on the driver's ability to operate a motorcycle.

In short, the passenger's case could be affected by willingly getting on a motorcycle with someone who was under the influence and causes an accident. As with many things, it is necessary to fully know the facts before one can judge the impact of alcohol consumption on the ability of a passenger to recover damages against the motorcycle operator. It is fair to say, however, that alcohol consumption by either the driver or passenger factors into a motorcycle accident case, and is yet another reason why experienced legal representation is critical following a motorcycle accident.

Our award-winning lawyers offer a free, no-obligation consultation about your potential case and accept all motorcycle accident cases on a contingent fee basis. This means you owe us absolutely nothing unless we win - not even the case expenses which we advance interest-free. Contact us online or call us at one of our three Middle Tennessee office locations. While our offices are centrally located in Middle Tennessee, we represent motorcycle accident victims across the State of Tennessee. We would be honored to help you with your motorcycle accident case.

Nashville: 615-669-3993
Murfreesboro: 615-867-9900
Brentwood: 615-742-4880
Toll-Free: 866-812-8787