Motorcycle Accidents at Intersections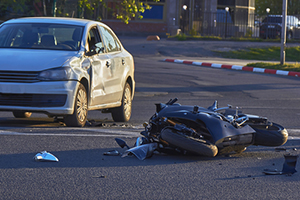 According to the most recent data from the National Highway Traffic Safety Administration, 34% of motorcycle accidents occur at intersections. Analyzing these types of crashes even closer reveals the most prevalent type of intersection wreck, or 42% of intersection wrecks, is when a vehicle turning left fails to yield to a motorcycle going straight. In these cases, many car and truck drivers later maintain that they looked but did not see the motorcycle or they will claim the motorcycle was speeding and that was the cause of the wreck. But the reality is that many drivers simply are not looking for motorcycles. Of course, everyone who travels through an intersection has a duty to obey traffic signals and the duty to maintain a proper lookout. A driver's inattentiveness combined with the smaller profile of the motorcycle often combine with serious consequences for motorcycle riders.

Other common types of intersection wrecks occur when:

* A driver of a vehicle pulls out from a side street into the path of a motorcycle.

* A driver of a vehicle rear-ends a motorcycle because they were not paying sufficient attention to realize the motorcycle was slowing down or stopping. Many motorists do not realize motorcycle drivers often downshift to slow their bike and so often brake lights will not be activated.

* A driver of a vehicle runs the red light.

* The operator of a vehicle is distracted while driving either by a phone, eating, using a navigational device, etc.

Motorcycles wrecks, regardless of whether they are at intersections or on the interstate, tend to result in serious injuries or death. With minimal safety protection for the motorcycle rider, accidents tend to result in broken bones, traumatic brain injuries, spinal cord injuries, significant lacerations and internal injuries. For this reason, it is crucial for you to have legal representation to help you recover complete compensation for medical bills, lost wages, pain and suffering, any scarring or disfigurement, etc. Unfortunately, the other driver all too often does not have insurance or does not have sufficient insurance to fully compensate the injured motorcyclist. We can help determine if your own motorcycle insurance can be held responsible for covering your losses or if someone else is also to blame for the accident such as a restaurant or bar who may have over-served the other driver with alcohol, etc.

Our award-winning attorneys are experienced not only in motorcycle law, but also motorcycle issues as some of us have been motorcycle riders ourselves. We would be honored to help you with your motorcycle accident case. We know you have have your choice of lawyers so we encourage you to do your research before hiring a lawyer for your motorcycle accident case. Start by reviewing our FAQ page on topics such as How to Select a Personal Injury Attorney and read some of our Client Testimonials, Facebook reviews and Google reviews. Then, give us a call.

We offer a free, no-obligation consultation so it costs you nothing to see if you have a case. If you decide to hire us, we handle all motorcycle accident cases on a contingency basis so we only get paid if we recover money for you. We represent motorcycle accident victims across the State of Tennessee, and we will gladly come to you at the location of your choice if you are unable to come to our office for any reason. To get started, just give us a call at:

Nashville: 615-669-3993
Murfreesboro: 615-867-9900
Brentwood: 615-742-4880
Toll-Free: 866-812-8787