Failure to Wear a Helmet in a Motorcycle Accident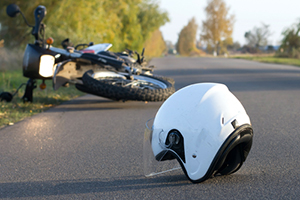 Tennessee law requires every motorcycle operator and passenger to wear an approved helmet. The violation of this law is negligence per se. That means that if you are riding on a motorcycle without a helmet you are negligent as a matter of law.
If you are operating a motorcycle without a helmet and you are in a wreck with another driver, the other driver can hardly claim your failure to wear a helmet had something to do with the wreck. The lack of a helmet does not cause a wreck. But, they can argue your failure to wear a helmet increased the severity of your injuries especially if you sustained head, face or neck injuries. If you only sustained lower extremity injuries like a broken leg, the lack of helmet is not an issue. If your case goes to trial, a jury hearing the case will be told about the failure to wear a helmet if there is any evidence from which the jury could reasonably conclude that the failure to wear helmet caused or worsened the injuries you sustained.

Thus, in the event a claim is made or a lawsuit is filed after a motorcycle crash where the operator or the passenger was not wearing a helmet, it may be necessary to employ the services of doctors and perhaps even bio-mechanical engineers to understand whether the failure to wear a helmet made any difference in either the nature or extent of the injuries.
It makes good sense to wear a helmet while riding a motorcycle. Not only is it required by law, but a helmet may save your life or prevent you from suffering a horrible head injury in the event of a crash. According to experts, helmets reduce the risk of death by 37% and reduce the risk of a head injury by 69%. Each year, $1 billion in economic losses could be avoided if all motorcyclists would wear a helmet. And, if you happen to be in a crash, the fact that you are wearing a helmet will save a significant amount of expense and worry connected with resolving any claim arising from the accident.
At the Law Offices of John Day, we firmly believe that you should seek legal advice after a motorcycle accident, even if it is not us. We encourage you to read How to Select A Personal Injury Lawyer, How to Prepare For a Meeting with An Injury Lawyer and What Happens After I Hire You as My Lawyer. All these pages are designed to help injury victims understand the process better. We also encourage you to read our Client Testimonials, Facebook reviews and Google reviews to see what former clients say about working with our firm.

With more than 100 years of combined experience, we would be honored to help with your motorcycle accident case. We offer a free initial consultation so you can learn more about your legal rights and interview us to be your lawyer. If we think you have a case and you decide to hire us, we handle all motorcycle accident cases on a contingency basis so we only get paid if we recover money for you, and we advance all case expenses so you are never out of pocket any money to pursue your legal rights. To get started, simply contact us online or call us anytime of day at one of our three convenient Middle Tennessee locations. While our offices are centrally located in Middle Tennessee, we represent motorcycle accident victims all over the State of Tennessee. To learn more about your legal rights and options, give us a call:

Nashville: 615-669-3993
Murfreesboro: 615-867-9900

Brentwood: 615-742-4880

Toll-Free: 866-812-8787