How to Prepare for a Meeting with an Injury Attorney?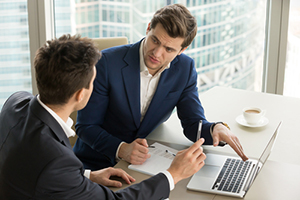 Nobody likes being unprepared, so what should you do before calling or meeting with an injury attorney? First, relax. We know that most people have not had any experience with an injury case or even the legal system, and injury lawyers are there to help you. With that being said, there are some things you can do to help make the first call or meeting more productive. We also recommend you ask some important questions so you can be sure you are selecting the right attorney for you and your case.
For your first call or meeting, if you are able, try to have the following information available:
If it was a car, truck or motorcycle accident and the police responded, have the police report number ready to provide to the lawyer. It is not necessary for you to have the police report. We will get the report if you do not have it. The number just makes the process a lot easier.
The name of the person or business at fault. For example, in a car accident case, we need the name of the driver who caused the accident. Or, in a food poisoning case, we need the name and location of the restaurant that served the tainted food. In certain cases, you may not know exactly who is at fault. That is not a problem as sometimes you actually need a lawyer to determine who bears legal responsibility. But at the start of a case, if you can provide this information, it will permit us to determine if we have any conflicts. For instance, if Sam Brown hit you in a car accident, ethics rules prevent us from suing Sam Brown if he is an existing client. By providing us with the identity of who is at fault at the initial meeting or call, if you have it, we can make that determination more quickly.
Ideally, we would like to know the general course of your medical treatment since the accident. For example, it is helpful to know what medical providers you have seen and how many times you have seen them. It is also helpful to know what additional treatment has been recommended such as future surgeries, etc.
Likewise, we will need to know a bit about your medical history. For instance, if you suffer a ruptured disk in your back in a car accident case, we would like to know if you have ever had back problems before this accident. To be clear, even if you have experienced prior problems, that does not necessarily mean we will not take your case or that you cannot recover compensation for your injuries. It is just a piece of the overall puzzle that we like to have as early as possible.
If you were involved in a car accident, we would like to have a copy of the declarations page of your auto insurance. This is typically the very first page of your policy and it identifies the type and the amounts of any coverage you purchased. Many people are not exactly sure of the coverage they have as they often rely on assurances by their agent that they have full coverage, etc. We want to review your policy to determine if you have medical payment provisions, underinsured and uninsured motorist coverage, gap coverage, rental coverage, etc. These coverages could help you immensely and we will want to tap your insurance company for those protections if they apply.
Photographs are immensely helpful whether they are of the scene of the accident, damage to vehicles, injuries, etc.
If you are aware of any witnesses to your accident, please have that information ready even if you think they are going to be identified on a police report or a company's incident report.
We will want to know if any insurance company has contacted you. If so, we will want to know who it was. If we think we can help and you decide to hire us, we will immediately make contact with the insurance company and ask that all future communication be directed to us so that you can avoid the hassle and work associated with it.
We would like to know if you are aware of any cameras that may have recorded the accident. For instance, are you aware of any cameras in the store where you slipped and fell? Cameras are now on the exterior of many businesses, and often these cameras capture car accidents and other types of accidents. Do not stress if you do not know. This is information we can determine, if necessary.
So far, we have told you what information you should try and provide, but it is also very important that you get some information from the attorney you are considering for your case. On this FAQ page, How To Select A Personal Injury Attorney, we give you a checklist of things you should ask to make sure you are hiring the right person for your case.
We hope this helps you feel more prepared to call or meet with an injury attorney. And again, it is not a problem if you do not have these things. If you do not have this information, we are happy to get it ourselves – it is part of our job. But if you do have this information, it simply helps us make some early decisions and get the ball rolling faster. As always, we are here to help. Give us a call with any questions or concerns. After all, it is free.