Drinking and Driving a Motorcycle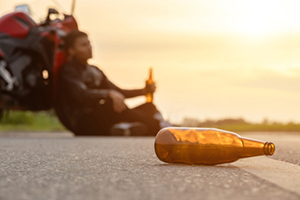 Tennessee law prohibits a driver of any type of motor vehicle, including the operator of a motorcycle, from driving under the influence of alcohol. Under Tennessee law, a motorcyclist (and any other driver) is presumed to be operating the vehicle under the influence of alcohol if the blood alcohol concentration (BAC) equals or exceeds .08. The amount of alcohol that one can consume and still stay under the lawful limit depends on many factors, including gender, age, weight, the time period of alcohol consumption, etc. Accordingly, the BAC level of the motorcyclist will be important. Judges and juries will almost certainly view a BAC level of .085 differently than a BAC of 2.0.
If you were operating a motorcycle while over the legal limit, you do not necessarily lose your right to pursue an injury claim. For example, if a motorcycle rider was sitting at a red light and was rear-ended by another motorist, the fact that the motorcycle rider was over the legal limit is unlikely to be considered the cause of the accident. On the other hand, because alcohol affects both judgment and motor skills, the consumption of alcohol by a motorcyclist, in a situation where the motorcyclist might have been able to take some evasive action to avoid the accident, can create a number of complicated legal issues that require experienced help to successfully navigate.

In short, if you are a motorcycle driver that was involved in an accident after drinking, hiring an experienced lawyer is absolutely critical. So that you make the right decision when hiring a lawyer, we encourage you to do your homework. We have several FAQ pages that can help you immediately after an accident and while interviewing injury lawyers, including us.

How to Select An Injury Lawyer
How to Prepare for a Meeting With an Injury Lawyer
What to Expect After Hiring The Law Offices of John Day

Of course, we also think the reviews and testimonial of former clients should be a consideration in your decision, so we urge you to read our Client Testimonials, Facebook reviews and Google reviews. Then, give us a call. Our award-winning lawyers have over 100 years of combined experience and John and Joy Day were former motorcycle riders themselves (a BMW and a Harley, respectively). As a result, we understand the issues. To help determine if you do have an injury case as a result of your motorcycle accident, we offer a free, no-obligation consultation. If we think you have a case and you decide to hire us, we represent injury victims on a contingency basis, so we only get paid if we recover money for you. But, do not delay because the law only allows you a limited time to pursue your rights and the sooner you hire us the sooner we can protect your interests.

We represent motorcycle accident victims across the State of Tennessee from our centrally located offices in Middle Tennessee. If you are unable to come to us, we will gladly come to you wherever you are. Give us a call to get started:

Nashville: 615-669-3993
Murfreesboro: 615-867-9900
Brentwood: 615-742-4880
Toll-Free: 866-812-8787