Negligent Repair of Motorcycles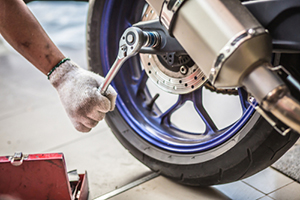 A motorcycle crash can be caused by many things, and one of those things is the negligent repair of the motorcycle. For example, if a tire is replaced on the bike and is not properly secured to the bike, a wobbly tire or a tire that literally comes off the bike can easily cause an accident. Or, if the brakes are worked on, the failure to do the repair properly can cause the brakes to fail which in turn can cause an accident. There are countless other examples. What is important for you to know is, if you suspect a problem with the repair of your motorcycle contributed to a wreck, it is essential for you: (a) to keep all of the parts of the motorcycle; (b) do not attempt to do any testing of the parts on your own; and (c) hire one of our award-winning lawyers as soon as possible.

It is important to keep all of the parts of the motorcycle because it will be very difficult to prove the existence of a repair problem without having the motorcycle and its component parts. For example, if the front wheel fell off causing you to lose control, it is important to have both the front wheel and the front half of the bike – both may show signs of a wheel that was not properly secured. Do not repair the bike and do not let the bike be sold for salvage. Keep the bike and as many parts of it as you can find.

Second, do not attempt to conduct your own test of the component or components of the bike that you believe failed. The simple fact of testing may alter or destroy evidence, and doing so may negatively impact your right to recover damages. Keep the evidence in the exact same condition as it was when you found it. Do not let it be exposed to rodents or other animals. Metal will rust, so even wet weather or just damp conditions can affect an engineer's ability to inspect and test the bike later, which can hurt your ability to prove there was a problem with the repair.
We can guide you through this process. We know who to hire to conduct an appropriate test and how the testing can be done to avoid any later claims that the evidence has been unfairly altered. We will interview witnesses and gather other critical evidence such as 911 tapes, the police report and photos, repair records and more. We will also obtain your medical records and deal with the at-fault party's insurance company so you can focus on recovering from your injuries.

Our experienced lawyers have more than 100 years of combined experience representing bikers and motorcycle passengers, and Joy and John Day are former bikers themselves (a BMW and a Harley, respectively). We understand how to investigate cases involving a potential claim for negligent motorcycle repair and how to avoid a claim by an insurance company that evidence has been altered or destroyed. Contact us online or call us anytime of day at our Middle Tennessee offices. While our offices are in Middle Tennessee, we represent motorcycle accident victims wherever they are in the State of Tennessee. We will come to you if you are unable, for any reason, to come to us. We are here to help. Give us a call at:

Nashville: 615-669-3993
Murfreesboro: 615-867-9900
Brentwood: 615-742-4880

Toll-Free: 866-812-8787.