Prevention of Table Saw Accidents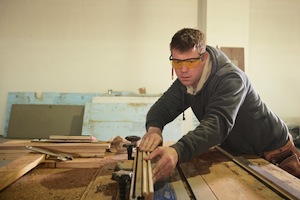 In the aftermath of an accident, it is common to wonder what caused the accident and what could have prevented it for occurring. While table saws are dangerous, safety devices exist to help reduce the number of accidents. A list of some of the more common safety devices is below:
Featherboard: A featherboard safely pushes the wood toward the blade while keeping fingers clear. While a featherboard reduces the likelihood of a kickback, it will not restrain the board in the event of a kickback.
Splitter: A splitter is a stationary blade mounted behind the saw blade, which helps prevent kickback. For maximum effectiveness, the splitter should be thicker than the saw blade but thinner than the saw kerf.
Riving Knife: A riving knife is similar to a splitter except it is fixed relative to the blade rather than the table and it has teeth to grip the wood if it kicks back from the saw blade.
Eye protection: Solid, quality googles can help protect your eyes from flying debris and help eliminate eye injuries.
If you or a loved one has been injured in a table saw accident, you may have a product liability case against the manufacturer, a workers' compensation case or a negligence case against someone else. Product liability cases can be very complex. In addition to the legal issues, engineering issues are almost always involved as well. As in every injury or death case, your choice of lawyer is critically important. Best Lawyers has recognized John Day as a leader in product liability law every single year since 2007. And unlike some lawyers, our firm has the financial wherewithal to pursue a faulty product case. Product liability cases can be very expensive because a host of engineering and medical experts are typically needed to prove your case. We advance all case expenses and never ask our clients to incur expensive litigation loans.

Before you hire any lawyer, including us, check our our FAQ page so that you can learn more about:

How to Select an Injury Attorney

How to Prepare for a Meeting with an Injury Attorney

How to Get More Money From the Insurance Company

Then, give us a call. We will review your faulty product case with you and help you understand your legal rights and options in easy and clear to understand terms. If we think we can help and you decide to hire us, one of our award-winning lawyers will handle your table saw accident case on a contingency basis which means we only get paid if we recover money for you. To schedule a free, no-obligation consultation with one of our experienced attorneys, please contact us online or call us at one of our three Middle Tennessee locations:

Nashville: 615-669-3993
Murfreesboro: 615-867-9900
Brentwood: 615-742-4880

Toll-Free: 866-812-8787

But do not delay, the law imposes strict deadlines by which you must act or forever lose your rights. In fact, in product liability cases, you must comply with both the statute of limitations and the statute of repose. We will gladly do a call via Zoom or come to the location of your choice if you are unable to come to our office for any reason.

We have recovered millions and millions for our satisfied clients and we would be privileged to help you and your family too.

More Table Saw Accidents Information