Eye Injuries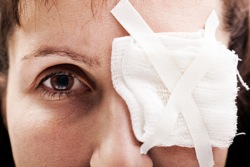 Eye Injury Attorneys
At The Law Offices of John Day, P.C. We Fight for the Rights of Eye Injury Victims
Our eyesight is a wonderful gift. It allows us to do everyday tasks like drive to work, read the mail and watch TV. And, it also permits us to witness life's extraordinary moments like a son hitting his first home run or a daughter graduating from medical school. Yet, according to the American Academy of Opthalmology, each year there are 2 1/2 million eye injuries and 50,000 of those injuries will result in partial or total blindness.
If you or a loved one has been the victim of an eye injury, our experienced team of eye injury attorneys will help you hold the careless parties responsible regardless of whether the injury was caused at work, by a car accident, a defective product or some other way. For more than 80 years, we have held an unwavering commitment to the rights of injury victims. Our hard work and dedication has enabled us to recover more than $100 million dollars for satisfied clients.

Our results and reputation have also earned us many accolades and awards. For instance, since 1993, John Day has been ranked by Best Lawyers as one of the country's best lawyers, and The Law Offices of John Day, P.C. has been ranked as one of the country's best firms by U.S. News and World Report. Business Tennessee has consistently named John Day as one of the State's best attorneys. Our lawyers have also been recognized by other lawyers -- earning Super Lawyers awards and Martindale-Hubbell AV Preeminent ratings. But the praise of which we are most proud comes from our former clients -- just look at our Client Testimonials.
We Are Your Voice When You or a Loved One Has Been the Victim of an Eye Injury.
Having an experienced lawyer on your side can mean the difference between winning or losing. It can also mean the difference between getting a low-ball offer from the insurance company or full compensation for your damages. From the moment you hire us, we will work tirelessly to investigate every aspect of your case. We will visit and photograph the accident scene, interview witnesses, obtain police reports, and gather all relevant investigative materials. To prove your damages, we will obtain all your medical and pharmacy records and, in appropriate cases, we will hire doctors, life care planners, economists and other experts to prove the nature and extent of your damages and any future medical needs. We will take the hassle out of dealing with the at-fault party's insurance company. While you focus on recovering from your injuries, we will handle all of the paperwork, phone calls and negotiations. And of course, if the insurance company does not want to be fair, we will aggressively fight for you in court to ensure you get the compensation you deserve.
Contact Us Today and Speak With One of Our Tennessee Eye Injury Attorneys for Free.
If you or someone you love has been the victim of an eye injury, call us any time of day at 615-742-4880 or toll-free at 866.812.8787 or contact us online. We will thoroughly discuss your case during a free, no-obligation consultation. If your injuries prevent you from coming to our office, we will gladly come to your home or the hospital. As always, we do not get paid unless we recover money for you. And unlike a lot of lawyers, we advance all case expenses so you are never out of pocket any money to pursue your eye injury case. To learn more about our fees and how we handle case expenses, click here.
For more information on different types of eye injury accidents, please review the additional information above.