What is Saw Stop Technology?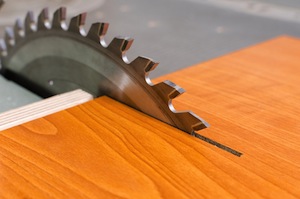 In 2000, Dr. Stephen Gass developed flesh-detection technology known as Saw Stop. Saw Stop passes an electrical current through the saw blade. The Saw Stop can tell the difference between flesh and wood because of that electrical current. Humans are composed of a lot of water which is a fabulous conductor of electricity. When the electrical current senses human flesh as opposed to wood, the Saw Stop deploys a blade brake to stop the rotation of the blade in roughly 3-5 milliseconds. The difference in the level of injury to the operator is enormous. Without Saw Stop, the operator will likely lose a finger or suffer another type of serious injury. With Saw Stop, the operator will only receive a nick.

You are probably asking: why hasn't this technology been implemented on every table saw on the market? Good question. Dr. Gass has approached the major saw manufacturers but they have refused to incorporate the technology claiming it would destroy the market for cheap saws. The manufacturers also do not want to have to pay to license Gass' technology.
As a result, Gass has lobbied the Consumer Product Safety Commission to adopt a standard requiring a blade brake be incorporated into table saws. To date, the Consumer Product Safety Commission has been unwilling to implement a standard but court cases and public support may ultimately achieve the desired result. That this technology has not yet been mandated is heart-breaking when you consider that, according to National Public Radio, there are more than 10 amputations per day from table saws. In addition, there are another 30,000 lesser but still severe injuries that require emergency medical treatment.

Following a serious injury or death, choosing the right lawyer is critical to the success of your case. Since 2007, Best Lawyers has recognized John Day in the area of Product Liability Litigation. But that is only the beginning of the awards our lawyers and firm have received. We encourage you to read more about our Professional Honors and Awards, our reviews on Facebook and Google and the testimonials of our satisfied clients. Finally, if you know a lawyer, ask them about our reputation and abilities. For more information on hiring the right lawyer, even if it is not us, visit our FAQ page for helpful pages like: How to Select a Personal Injury Attorney, How to Prepare for a Meeting with an Injury Lawyer, etc.

If you or a loved one has been injured in a table saw accident and would like to know if you have a case, give us a call. We offer a free initial consultation in which we will discuss your case with you and let you know if we think we can help. We want you to understand your legal rights and options. After the call, if you decide to hire us, our award-winning lawyers handle all table saw cases on a contingency basis, which means we only get paid if we recover money for you. We have recovered millions and millions of dollars for our satisfied clients and we would like to help you and your family too.
Contact us online or call us anytime at one of our three conveniently located Middle Tennessee locations:

Nashville: 615-669-3993
Murfreesboro: 615-867-9900
Brentwood: 615-742-4880
Toll-Free: 866-812-8787

More Table Saw Accidents Information