Table Saw Accidents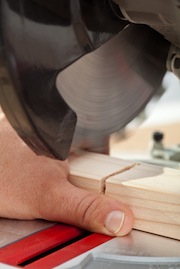 Most table saws are equipped with a blade spinning at about 3500 to 4400 rpm, which is roughly 100 miles per hour. While this energy is what creates a smooth cut through a thick piece of wood, it can also cause a lot of damage in the blink of an eye. Of course, a table saw can amputate a finger or cause a serious laceration. But, an operator can also sustain a fracture, a brain injury, an eye injury or other serious injury if struck by thrown wood.
Table saw accidents can be prevented if the saw is designed with proper guards and safety features such as Saw Stop technology. But for years, manufacturers have resisted adoption of certain safety features. In fact, the Power Tool Institute, a trade group representing manufacturers like Bosch and Black & Decker, claim incorporation of some of the technology would create an unfair market advantage and increase prices (and consequently affect their profit). This response is hard to accept if you or a loved one has been the victim of a table saw accident.
At The Law Offices of John Day, P.C. our award-winning attorneys have been helping injury victims receive the compensatory damages and, if appropriate, punitive damages they deserve. We have recovered millions and millions of dollars for our satisfied clients. Why do we emphasis "recovered"? Because some lawyer will go to trial against an uncollectible, unrepresented defendant and get a huge verdict. And while they can use that huge verdict in their advertising, they did not actually put a penny in their client's pocket. At The Law Offices of John Day, P.C. it is never a win unless we actually get money for you.
Your choice of lawyer is always important but especially so in a product liability case. Cases involving faulty products are complex because there are almost always underlying engineering issues in addition to the legal issues. John Day has been recognized in the field of product liability litigation every single year since 2007 by Best Lawyers. In addition, our firm has the financial wherewithal to advance the case expenses, which is important because product liability cases are expensive to pursue due to the number of engineering and medical experts typically required. So before you contact any lawyer, do some homework on How To Select an Injury Attorney.

If you think you have a case based on a faulty product, give us a call. Product liability cases are subject both to a statute of limitations and a statute of repose so time is of the essence. Our firm handles all table saw accident cases on a contingency basis so we only get paid if we recover money for you. Visit this FAQ page for more information on fees and expenses. If you would like to schedule a free, no-obligation consultation with one of our experienced lawyers, contact us online or call us anytime at one of our three convenient Middle Tennessee locations:

Nashville: 615-669-3993
Murfreesboro: 615-867-9900
Brentwood: 615-742-4880
Toll-Free: 866-812-8787

As always, we are happy to come meet with you at your home, the hospital or the place of your choice, if you are unable to come to our office for any reason.

More Table Saw Accidents Information