Brain Injuries in Children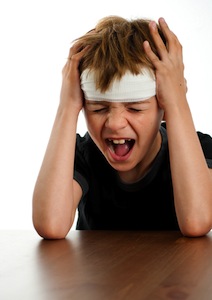 According to the Centers for Disease Control and Prevention, children ages 0 to 4 and teens ages 15 to 19 are some of the most at-risk for brain injuries. In fact, almost a half a million emergency room visits are made annually by children ages 0 to 14 who have sustained a traumatic brain injury, and traumatic brain injury is a leading cause of disability and deaths in infants.
The causes of brain injuries in children are varied but falls, auto accidents, trucking accidents, bus accidents, bicycle accidents, sporting injuries and child abuse account for a large number of traumatic brain injuries. If your child has been involved in an accident, it is critical to look for signs of a possible brain injury. Often, there will not be an external injury, but bruising or a bump can signal a possible head injury. Other symptoms are:
Your child is fatigued easier than normal or has a noticeable decrease in energy levels.
Your child is irritable and moody and can not be consoled.
Your child's eating and sleeping patterns are abnormal.
Your child seems unbalanced while walking or crawling.
Your child is nauseous or vomiting.
A lack of interest in normal play activities
Claims involving brain injuries in small children can be unique and complex. Because their brains are still developing, certain deficits may not be apparent for many years. In adult brain injury cases, lawyers and experts can use school records, IQ tests, performance reviews at work, work histories and other data to illustrate the severity of the injury and the impact on the adult's life. But in small children, there is often a complete absence of any baseline by which to measure the effects of the injury. For these reasons and others, you need to hire an experienced brain injury attorney who knows how to prove your case.
The cost of medical care for brain injuries can be staggering. Often, one parent must leave the work force to care for the injured child, and this produces financial burdens for the family. And, the emotional turmoil associated with an injured child can be profound. If your child's brain injury was the result of someone's carelessness, the at-fault parties and their insurance companies should compensate you for these damages and others.
If your child has suffered a brain injury, contact one of the brain injury attorneys at the Law Offices of John Day. We will provide you with a free, no-obligation consultation in which we will thoroughly review your case and advise you of your rights. If you are unable to come to our office, we will gladly come to you at the hospital or your home. From anywhere in Tennessee, call 615-742-4880 or toll-free at 866.812.8787. We only get paid if we recover money for you, and we advance all case expenses so it will not cost you a penny to pursue your brain injury case.