Causes of Brain Injuries and Symptoms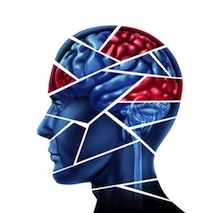 Brain injuries can be caused in a number of ways but the most common are auto accidents, firearms and falls.
A person who sustains a brain injury may have an array of both physical and psychological symptoms. Some symptoms may appear immediately after the injury but others may not appear until weeks later. Below are the most common symptoms for mild and moderate to severe traumatic brain injuries.
Mild traumatic brain injuries
The symptoms of a mild traumatic brain injury may include:
Loss of consciousness for a few seconds to a few minutes
No loss of consciousness, but a state of being confused, disoriented or dazed.
Concentration or memory problems
Loss of balance or dizziness
Headache
Sensitivity to light or sound
Nausea or vomiting
Sensory problems such as blurred vision, ringing in the ears or a bad taste in the mouth
Mood changes or mood swings
Anxiety or depression
Drowsiness or fatigue
Difficulty sleeping or sleeping more than usual
Moderate to severe traumatic brain injuries
Moderate to severe traumatic brain injury may include some of the same signs and symptoms of a mild injury, but may also include the following symptoms which may not appear for a few days after the initial injury:
Loss of consciousness from a few minutes to hours
Combativeness, extreme irritability or other unusual behavior
Slurred speech
Profound confusion
Inability to awaken from sleep
Loss of coordination
Numbness or weakness in the extremities
Loss of bowel or bladder control
Persistent headache or headache that worsens
Repeated vomiting or nausea
Seizures or convulsions
Dilated pupils
Clear fluids draining from the nose or ears
If you or your loved one is exhibiting any of these symptoms following a head injury, seek immediate medical attention. If the head injury was caused by someone's carelessness, next seek immediate legal help with one of our experienced brain injury attorneys. Even mild brain injuries can be disruptive to every day life and can last for over a year. A severe brain injury can cause significant impairments and disabilities and can transform the lives of the victim and the victim's entire family. We understand the physical, emotional and financial burdens imposed on victims of brain injuries and their families, and we are here to help you recover compensation for pain and suffering, medical bills, lost wages, future medical care and more.
From anywhere in Tennessee, contact one of our brain injury attorneys at 615-742-4880 or toll-free at 866.812.8787 or online. We will provide you with a free, no-obligation consultation to discuss your accident and your rights. We only get paid if we get money for you and we advance all case expenses. So, you will never be out of pocket any money to pursue your brain injury case. For more information on our fees and case expenses, click here.