Brain Injuries at Birth - Cerebral Palsy and Birth Trauma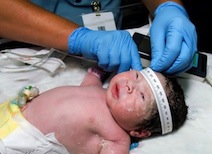 In most parents' lives, the birth of a child is one of the most joyful times. But, when things go wrong in the delivery room, a time of joy can become a time of heartbreak. If your baby suffered a brain injury at birth, there could be many causes including:
Failure to properly monitor the progression of labor and delivery
Failure to recognize fetal distress
The umbilical cord was wrapped around the baby's neck or was compressed
Preeclampsia or eclampsia
Problems with the placenta
Problems associated with a uterine rupture
The use of forceps, vacuums or other methods of delivering an unusually large baby
Improper dosage of medication
Delayed C-section
One of the most common brain injuries at birth is cerebral palsy, which is often caused by the negligence of the medical team attending the birth. Brain injuries in babies almost always require a lifetime of medical care, and parents worry not only about the cost of that care but about who will pay for it and provide it when they are gone.
To determine the cause of your baby's injuries, it is critical to choose a lawyer who is experienced in brain injury and medical malpractice cases. This is true now more than ever given the sweeping changes to Tennessee's medical malpractice laws. We are proud of the fact that John Day was recently named Lawyer of the Year in Medical Malpractice Law (Nashville Area) by Best Lawyers, and he testified at the Tennessee Legislature about the changes and impact of the new medical malpractice laws.

At The Law Offices of John Day, P.C. we have more than 80 years experience in birth injury cases that you can rely upon. If your baby was injured during birth, you need one of our experienced brain injury attorneys to determine who is to blame and to help secure your child's future. We encourage you to review some of our professional honors and awards and client testimonials, then contact us to get started. From anywhere in Tennessee, call us any time of day at 615-742-4880 or toll-free at 866.812.8787 or contact us online. We will provide you with a free, no-obligation consultation to discuss your case and your family's rights. We handle all injury cases on a contingency basis which means we only get paid if we win. For more information on our fees and how we handle case expenses, click here.