Seat Belt Requirements for Minors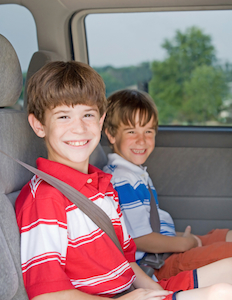 Seat belts are vitally important to the safety of minors during a car accident. Car accidents continue to be the number one cause of death for children under 18, and each year approximately 180,000 children are injured in car accidents - some catastrophically.

Children and adolescents do not fully understand the risk associated with failing to wear a seat belt, which is why the State of Tennessee puts responsibility for proper seat belt use on the driver of the vehicle. For children 9-12 years of age and taller than 4'9", the driver of the vehicle is responsible for ensuring the child is properly wearing a seat belt. The statute recommends children of this age still ride in the rear seat if available. For children ages 13-15, the driver is again responsible for ensuring the child is properly wearing a seat belt but for this age group there is not a recommendation that the child be in the back seat.
It is important to note that responsibility for seat belt use is placed on the driver. It is not necessary for the driver to be the parent or guardian. Additionally, Tennessee has a primary seat belt law which means a law enforcement officer is authorized to pull over a vehicle if the officer observes an occupant not using a seat belt. Violation of this law is a Class C misdemeanor and, in addition to fines, the court may require the offender to attend an educational class designed to teach drivers about the risk of failing to properly secure children in motor vehicles. Of course, the offender must also pay for the cost of the court-mandated class.

Helping injury victims is our passion. If you or a loved one has been injured and would like to know if we can help you, we offer a free, no-obligation consultation. We will discuss your case with you and let you know if we think we can help. If you decide to hire us, our award-winning lawyers handle all injury cases on a contingency basis so we only get paid if we win. Some injury lawyers require their clients to pay for the case expenses, but we advance all case expenses, interest-free, so you are never out-of-pocket to pursue your legal rights.

For more than 30 years, our firm has represented injury victims across the State of Tennessee, and we would be privileged to help you too. To get started, simply give us a call:

Nashville: 615-669-3993
Murfreesboro: 615-867-9900
Brentwood: 615-742-4880
Toll-Free: 866-812-8787
Before you hire any injury attorney, including us, we encourage you to do a little homework. We have a FAQ page that answers some of the most common questions that injury victims have after an accident and when hiring a lawyer including:

How to Select an Injury Lawyer

How to Prepare for a Meeting with an Injury Attorney
How Are Settlements Calculated?

What Are the Deadlines for Filing an Injury Claim?