What are the Deadlines for Filing a Lawsuit in Tennessee?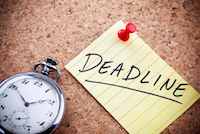 This issue is complicated, but let's start with a basic rule: different types of claims have different statutes of limitations (the legal deadline for bringing your case). For instance, a lawsuit alleging slander must be filed within 6 months and a claim for property damage must be filed within three years.
So What Is The Deadline for Injury and Wrongful Death Claims ?
Generally, a claim for personal injury or wrongful death must be filed within one year from the date your accident occurred. So, for example, if you were involved in a car accident on January 1, 2020, you have until January 1, 2021 to bring your injury lawsuit.
The same one year rule applies in wrongful death lawsuits. Assume your spouse was involved in a car accident on January 1, 2020. As a result of injuries sustained in the car accident, your spouse ultimately dies on January 15, 2020. The statute of limitations, in most cases, will expire on January 1, 2021, the one year anniversary of the date of the accident. This is true even though the death did not occur until 2 weeks later.
But as we indicated, statute of limitations are complicated. Special rules apply if you are a minor (under the age of 18) at the time of injury or if you have been declared mentally incompetent. Special rules known as statutes of repose also apply in medical malpractice, product liability cases and other types of cases. Statutes of repose can require a lawsuit be filed before the one-year deadline provided by the statute of limitations. Once a statute of limitations or statute of repose has passed, there is no way to revive your case. Your rights are gone.
Play It Safe
The bottom line: a number of factors can affect the deadline that applies to your injury accident and the general rules we have cited above may not apply in your particular case. Instead, statutes of repose or other factors may mean you have a much shorter deadline. So, the safest course of action is to obtain the advice of an experienced injury lawyer. At The Law Offices of John Day, P.C. one of our award-winning lawyers will gladly review your case and advise you of your deadline in a free, no-obligation consultation.
And one last piece of advice: even if you are confident that you know when the legal deadline expires, you can not wait until the last minute to pursue your case. Lawyers need time to investigate your case and prepare the necessary paperwork. In complex cases such as product liability and medical malpractice cases, a thorough investigation can take months and an investment of thousands of dollars. So, in every type of case but especially if you believe that your accident involves a defective product or a medical error of any type, you should consult with an attorney as soon as reasonably practical.
If you would like to discuss your injury case, contact one of our experienced attorneys by filling out this online form or by calling 615-669-3993 (Nashville) or 615-867-9900 (Murfreesboro) or 615-742-4880 (Brentwood) or toll-free at 866.812.8787. We handle all injury and wrongful death cases on a contingency basis which means we only get paid if we win. Therefore, calling us and gaining an understanding of your legal rights will cost you nothing at all.