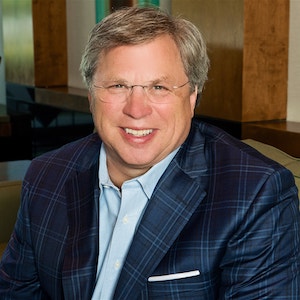 John A. Day
Winning. Some people just know how to do it. And while John Day cannot guarantee you a win in your case, he does have a well-deserved reputation for success. In fact, John's ability to deliver a victory to his clients has been widely recognized:
For each year from 2007 through 2017, Best Lawyers in America has recognized John in five separate categories – Bet-the-Company Litigation, Medical Malpractice Litigation, Commercial Litigation, Products Liability Litigation, and Personal Injury Litigation.
In 2009, Best Lawyers named him the first ever "Lawyer of the Year for Personal Injury Litigation - Nashville."
In 2010 and then again in 2014, Best Lawyers awarded him the title of Lawyer of the Year for Medical Malpractice Law - Nashville"
In 2012, Best Lawyers recognized him as "Lawyer of the Year for Bet-the-Company Litigation - Nashville"
John has been named in Mid-South Super Lawyers Top 100 every year since 2006.
John is a Nashville Business Journal Best of the Bar Award Winner for the category of Litigation and Dispute.

In 2011, the Nashville Post named John one of Nashville's Top 101 Lawyers.
John has an Avvo rating of 10.0 out of 10.0.
Martindale-Hubbell has awarded John an AV Preeminent rating which is the highest rating possible.
John has been certified as a civil trial specialist by the National Board of Legal Specialty Certification. Because of the rigorous process, less than 4% of practicing lawyers are actually certified. Not only is John certified, he served as the organization's President from 2003-2004, the Treasurer from 2008-2009 and was recently awarded the group's Lifetime Achievement Award.
John is also board-certified in the area of Medical Malpractice by the American Board of Professional Liability Attorneys.
In 2002, John was elected as a Fellow in the American College of Trial Lawyers. This international, invitation-only organization includes many of the best-known, highly-respected trial lawyers in the country. Tennessee has more than 23,000 lawyers and less than 200 are members of the American College of Trial Lawyers. John currently serves as Tennessee's State Chair.
And perhaps most importantly, appreciative clients have acknowledged how John and his staff have secured victories for their families .
Professional Activities
Not only is John committed to helping his clients win their case, but he also cares deeply about advancing the legal profession and the law itself. John served as President of the Tennessee Trial Lawyers Association (now the Tennessee Association for Justice) in 1993-94 and served as Chair of the Council of State Presidents of the Association of Trial Lawyers of America (now the American Association for Justice) from 1994-95. He has served on the Board of Directors of the Nashville Bar Association and as Chair of the Tennessee Bar Association's Tort and Insurance Practice Section.
John has also been selected by the Tennessee Supreme Court to serve on three important commissions. He served on the inaugural Commission on Alternative Dispute Resolution, which drafted the first ADR rule (Rule 31) for the Tennessee Supreme Court. He served for six years on the Tennessee Commission for Continuing Legal Education and Specialization , served as its Chairperson, and was awarded the Commission's "Leadership in Attorney Specialization" award in 2006. He currently serves on the Court's Commission on Rules and Procedure.
John also served on the Tennessee Judicial Evaluation Commission as an appointee of former Lt. Gov. John S. Wilder. That service ended in the summer of 2009 when the General Assembly allowed the statute creating the Commission to "sunset." A new evaluation commission was created by the General Assembly in 2009, and John was appointed to serve on it, this time by the Speaker of the House, Rep. Kent Williams. John was elected as the first Chair of the new Judicial Performance Evaluation Commission in September 2009.
Professional Writing
John's first book, Tennessee Law of Comparative Fault , was written in 1998 and co-authored with Donald Capparella. The book is now in its third edition and is published by Thomason-West. The book is updated annually.
John's second book was published in 2008. A new edition of the book, Day on Torts: A Handbook for Tennessee Tort Lawyers, was published in 2009. The third edition, Day on Torts: Leading Cases in Tennessee Tort Law , was published in 2010.
John's third Book, Compendium of Tennessee Tort Reform Statutes and Related Case Law 2009-2012 , reviews all of the "tort reform" legislation signed into law since the beginning of the 106 th General Assembly through the end of the 107 th General Assembly.
John has also written over 50 articles published in peer-reviewed publications. Click here for a list of those publications.
Professional Speaking
John has been honored with invitations to speak to lawyers about tort law and other issues of interest to tort lawyers on over 250 occasions. He has given over 200 speeches in Tennessee, as well as speeches in Alabama, Arkansas, British Columbia, Florida, Georgia, Hawaii, Illinois, Kentucky, Louisiana, Massachusetts, Michigan, Mississippi, Missouri, Nevada, New Mexico, New York, North Carolina, Ohio, Puerto Rico, Texas, Washington, D.C. and Wisconsin. Click here for a list of those speeches.
John is also co-owner of a seminar company called Justice Programs. One of the largest continuing legal education providers in Tennessee, Justice Programs offers 15 hours of continuing education to Tennessee-licensed lawyers every fall in three Tennessee cities – Nashville, Knoxville and Memphis. John speaks approximately four hours at these programs per city per year on tort law, comparative fault, and other topics.
Legal Education
John attended the University of North Carolina School of Law, where he was elected to the staff of the North Carolina Law Review and the Order of the Coif.
Personal
John grew up in rural Wisconsin in a farming community of less than 2000 people. John's father had been blessed with the opportunity to go to law school and he worked as a small town lawyer helping his neighbors in Central Wisconsin with all types of legal issues. John's mother worked as a teacher's aide at the local school. From an early age, John's parents instilled in him the value of hard work and education.
In middle and high school, John's father would occasionally take him out of school so that John could go to court and watch his father in action. Whether his father was defending someone against a criminal charge or helping someone with a family law matter. John witnessed his father help people through difficult times in their lives. The experience had a profound impact on John – he decided to become a lawyer.
John knew he would have to pay his own way through college. To do so, John worked so many different types of jobs that his own kids often refer to him as "the butcher, the baker, the candlestick maker". John was making money mowing yards, shoveling snow, and delivering newspapers before he was 12, and latter went on to work as a grocery bagger and checker, meat cutter, bartender, loading dock worker at a mobile home factory, developer's representative on a construction site, and helping a college professor start a title insurance agency.
At the age of 19 John was hired to run a bar and restaurant at the student union of his college, supervising up to 26 people. He worked full-time at this job during the last two years of undergraduate school.
Initially, John envisioned returning to his hometown and practicing with his father. But a professor encouraged John to attend law school out of state so that John could broaden his horizons. John applied to and was accepted to law school at the University of North Carolina at Chapel Hill. Like so many before him, once John moved to the South, he fell in love with everything from the people to the food. And let's be honest: the climate, compared to northern Wisconsin winters, was also a significant plus. After graduating with honors from law school, John accepted a position with a large firm in Nashville. At this first job, John found his mentor, the late John Conners, who was an injury lawyer. Helping injury victims was deeply rewarding, and John ultimately left the large law firm so he could open his own firm dedicated to helping people who were harmed by the carelessness of others.
John lives in Williamson County, Tennessee and has three children, two of whom are in college (one in Minnesota and one in Alabama) and rising second-grader in public school in Williamson County. John is married to Joy Burns Day, a fantastic cook and mother who also happens to be an excellent trial lawyer. The family has a cabin on Tims Ford Lake near Lynchburg, Tennessee, and at 6:30 a.m. on virtually every weekend morning John can be found on a Sea Doo exploring the 220 mile shoreline.