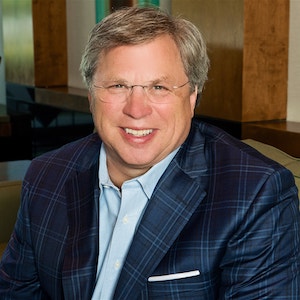 John A. Day
Overview
John Day is the founder and owner of The Law Offices of John Day, P.C.; he has been practicing personal injury and wrongful death law for more than 30 years. He also handles select commercial litigation matters.
John grew up in a small community in central Wisconsin where his father practiced law. From an early age, John's parents instilled in him the value of hard work and education. His father would occasionally take John out of school so that he could watch his father in court. Whether his father was defending someone against a criminal charge or helping someone with a family law matter, John witnessed first-hand his father helping people through some of the most difficult times in their lives. The experience had a profound impact on John, and ultimately, he chose a career in law.
John worked many different jobs to pay his own way through college including mowing yards, shoveling snow, delivering newspapers, bagging groceries and helping a college professor start a title insurance agency. He also worked as a grocery store checker, a meat cutter, a bartender, a manager of a college bar and restaurant, a loading dock worker and a developer's representative on a construction site, He worked full-time his last two years of undergraduate school at the University of Wisconsin-Platteville.
John went to law school at the University of North Carolina at Chapel Hill, where he was a member of the North Carolina Law Review and was elected to the Order of the Coif. He initially envisioned himself returning to his hometown to practice law, but fell in love with the people, the food and, of course, the climate of the South.
After graduating with honors from law school, John accepted a position with a large firm in Nashville where he found his mentor, the late John T. Conners, Jr., an injury lawyer. John found helping injury victims deeply rewarding, and eventually opened his own firm dedicated to helping people who were harmed by the carelessness of others.
John is an active author and speaker. He has written four books (one with two co-authors) and has published over fifty articles in peer review journals. He has also given over 300 continuing legal speeches across the United States.
John lives in Williamson County, Tennessee and has three children, two of whom have graduated from college and are in the workforce (in Minneapolis and Atlanta, respectively) and one who starts ninth grade in the Fall of 2021. John is married to Joy Burns Day, a fantastic cook and mother who also happens to be an excellent trial lawyer. The family has a cabin on Tims Ford Lake near Lynchburg, Tennessee, and at sunrise on virtually every weekend morning in warm weather, John can be found on a Sea Doo exploring the lake's 220-mile shoreline.
Education
University of Wisconsin-Platteville, B.S.
University of North Carolina at Chapel Hill, J.D.
Publications & Speeches
Publications
Day, J.A., and Capparella, D. – Tennessee Law of Comparative Fault (1997)
Day, J.A., Capparella, D., and Wood, J.D. – Tennessee Law of Comparative Fault (2d ed. 2002) (supplemented yearly)
Day, J.A., Capparella, D., and Wood, J.D. – Tennessee Law of Comparative Fault (3d ed. 2008) (supplemented yearly)
Day, J.A. – Day on Torts: A Handbook for Tennessee Tort Lawyers – 2008 (published 2007)
Day, J.A. – Day on Torts: A Handbook for Tennessee Tort Lawyers – 2009 (published 2008)
Day, J.A. – Day on Torts: A Handbook for Tennessee Tort Lawyers – 3rd Edition (published 2010) (supplemented August 2012 and June 2016)
Day, J.A. – Compendium of Tennessee Tort Reform Statutes and Related Case Law, 2009- 2012 (published 2012)
Day, J.A. – Compendium of Tennessee Tort Reform Statutes and Related Case Law – Second Edition, 2008- 2012 (published 2013)
Day, J.A. – Tennessee Law of Civil Trial (published 2014)
Day, J.A. – Compendium of Tennessee Tort Reform Statutes and Related Case Law – Third Edition, 2008-2014 (published 2014)
Day, J.A. – Compendium of Tennessee Tort Reform Statutes and Related Case Law – Fourth Edition, 2008-2015 (published 2015)
Day, J.A. – Motion Practice for Tennessee Personal Injury Lawyers (published 2015)
Day, J.A. – Compendium of Tennessee Tort Reform Statutes and Related Case Law – Fifth Edition, 2008-2016 (published 2016)
Periodicals
Founder and Editor – Tennessee Tort Law Letter (1995 – Sept. 2008)
Publisher, Founder and Editor – Tennessee Trial Law Report (Nov. 2008 – Oct. 2013)
Publisher, Founder and Editor – Legal Summit (September 2017 – Present)
Book Chapters and Articles
"Damages for Fear of Future Surgery," The Tennessee Trial Lawyer (Winter 1986)
"The Insurance Crisis: The Myths and The Facts," The Tennessee Trial Lawyer (Spring 1987); reprinted in The New Jersey Trial Lawyer (Summer 1987)
"Elderly Personal Injury Victims,"Trial (April 1988)
"Requests for Admissions,"Federal Litigation Guide (chapter revision) (1989)
"Proof and Argument of Damages for Elderly Personal Injury Victims,"5 American Jurisprudence Proof of Facts 3d (1989)
"Evaluating the Potential Medical Negligence Case,"Trial Diplomacy Journal, (Vol. 4, No. 12, (1989); reprinted in The Tennessee Trial Lawyer (Vol. 11, No. 2)
"The Role of the Plaintiff's Lawyer,"Fetal Assessment: Physiological, Clinical, and Medicolegal Principles, (Boehm, F.A. and Eden, R.D. eds.) (1990)
"Physical and Mental Examinations of Persons,"Federal Litigation Guide (chapter revision) (1990)
Review of "Winning Trial Advocacy: How to Avoid Mistakes Made by Master Trial Lawyers" by Julius B. Levine, Trial (September 1990)
"Nursing Home Litigation,"Trial (April 1991)
"Duty to Warn of Potential Drug Interactions: The Pharmacist's Role," Day, J.A. and Marks, C., Trial Diplomacy Journal, Vol. 14, No. 2; reprinted in Pharmacy Law Annual (1991).
"Mix, But No Match: Preparing a Case Against Pharmacists for Failure to Warn About Drug Interactions,"Verdict, Vol. 18, No. 3 (1993)
"Proposed Rule Changes,"The Tennessee Trial Lawyer (Spring 1992)
"Civil Appellate Review,"The Tennessee Trial Lawyer (August 1992)
"Civil Appellate Review - One Step Forward, Two Steps Back,"The Tennessee Trial Lawyer (November 1992)
"Comparative Fault Cases Pending Before the Tennessee Supreme Court," The Tennessee Trial Lawyer, Vol. 17, No. 4 (Winter 1998)
" Calaway v. Schucker: Will the Statute of Repose Bar Kaitlyn's Claim?" The Tennessee Trial Lawyer, Vol. 24, No. 1 (Spring 2005)
"The Assault on Patient's Rights," The Tennessee Trial Lawyer, Vol. 25 No. 1 (Spring 2006)
"The Economics of Case Acceptance," The Tennessee Trial Lawyer, Vol. 25 No. 3 (Fall 2006)
"Should You Risk Taking the Case?" Trial (January 2008)
"What it Takes to be A Great Trial Lawyer," The Verdict, Spring 2008; reprinted in Tennessee Bar Journal (November 2008) (Feature Article); reprinted in Ohio Trial (Fall 2008); reprinted in The Prairie Barrister (Winter 2008); reprinted in Tennessee Trial Lawyer (Spring 2009)
"The New New Medical Malpractice Notice and Certificate of Good Faith Statutes," Tennessee Bar Journal, July 2009 (Cover Story)
"Think Ahead: Mills v. Fulmarque Reinforces Importance of Strategic Thinking," Tennessee Bar Journal (May 2012) (Cover Story)
Tennessee Bar Journal
Articles for "Day on Torts" Column
"Issues Raised by Jordan" (December 1999)
"Proof in Outrageous Conduct Cases" (January 2000)
"Made Whole?" (February 2000)
"The Law of Informed Consent" (April 2000)
"No Fault for Phantoms" (June 2000)
"Subrogation of Future Medical Payments" (August 2000)
"TennCare Subrogation Changes Again" (October 2000)
"Plaintiffs Must Bear Cost of Immunity" (December 2000)
"Loss of Filial Consortium" (May 2001)
"Fear the Dark No More" (September 2001)
"Do You Believe In Magic?" (January 2002)
"'Jordan' Stew" (May 2002)
"Tort Law 'Blue Chippers'" (September 2002)
"Tort Law 'Blue Chippers', Part 2" (January 2003)
"Things That Go Bump in the Night" (May 2004)
"Abandoning Stare Decisis Is Sometimes the Best Course" (September 2004)
"A Primer on the Law of Negligent Infliction of Emotional Distress" (May 2005)
"Ex Parte Communications with Treating Physicians (September 2005)
"What Constitutes 'Bad Faith' in Tennessee? (January 2006)
"You Sunk My Lifeboat!" (May 2006)
"Can a Minor Sue for Pre-Majority Medical Expenses?" (January 2007)
"Corporate Veil Not Pierced in Business Tort Case" (May 2007)
"Be Careful What You Say" (September 2007)
"Strike One, You're Out" (January 2008)
"Discovery Rule: Opinion Causes Headache" (May 2008)
"NEID Claims After Flax and Eskin" (January 2009)
"Recreation Limits Litigation" (May 2009)
"Party Planning for Tort Lawyers" (November 2009)
"Hoping Don't Make It So" (May 2010)
"Lack of Parachute Results in Fatal Fall" (October 2010)
"Presents from 'Round Back of the Tree" (January 2011)
"That's (Not) a Fact, Jack" (May 2011)
"Who Should Get Burned by Bruce's Torch?" (September 2011)
"Retailers Escape Responsibility for Dangerous Foreign-Made Products" (January 2012)
"Distribution of Net Proceeds in Tennessee Wrongful Death Cases" (September 2012)
"Tenn. Code Ann. § 55-10-311(a): What Does it Mean?" (January 2013)
"Of Tulip Trees and the Common Law" (May 2013)
"Protecting Yourself from Statutes of Repose" (January 2014)
"T.C.A. § 20-1-119 and Federal Courts" (May 2014)
"Venue in Tennessee Personal Injury and Wrongful Death Cases" (September 2014)
"Some Facts on Tort Cases in Tennessee" (May 2015)
"Same Sex Marriage and Loss of Consortium Claims" (September 2015)
"Don Margolis, Moreno and Unintended Consequences" (January 2016)
"Surviving Spouses and Wrongful Death Claims" (May 2016)
"Harmed Twice" (September 2016)
"Statute of Limitations for Child Sexual Abuse Claims" (January 2017)
"Mothers, Minors and Medical Bills" (May 2017)
"Forum Not Agreeing" (September 2017)
Speeches
"Expanding Liability – Litigation Against Bars and Restaurants Serving Alcoholic Beverages"

Tennessee Trial Lawyers Association

Knoxville, Tennessee (March 30, 1984)
Nashville, Tennessee (March 31, 1984)
Memphis, Tennessee (April 14, 1984)

"Proof of Damages"

Tennessee Trial Lawyers Association

Nashville, Tennessee (March 4, 1985)

"Negligent Highway Design and Maintenance"

Tennessee Trial Lawyers Association

Nashville, Tennessee (April 13, 1985)
Knoxville, Tennessee (April 20, 1985)
Memphis, Tennessee (May 4, 1985)

"Is the Medical Negligence Insurance Crisis Real?"

Nashville, Tennessee (May 20, 1985)

"Use of a Vocational Rehabilitation Expert"

Tennessee Trial Lawyers Association

Memphis, Tennessee (October 12, 1985)
Jackson, Tennessee (October 19, 1985)
Nashville, Tennessee (October 26, 1985)
Knoxville, Tennessee (November 9, 1985)
Johnson City, Tennessee (November 15, 1985)
Chattanooga, Tennessee (November 23, 1985)

Faculty, National College of Trial Advocacy

Birmingham, Alabama (March 1986)
Miami, Florida (March 1987)
Nashville, Tennessee (November 1987)
Detroit, Michigan (March 1989)
San Antonio, Texas (March 1991)
Safety Harbor, Florida (February 1999)
Harvard, Cambridge, Massachusetts (March 2000)

"Tort Reform: An Update for Lawyers"

Nashville, Tennessee (August 8, 1986)

"Civil Practice - Plaintiff's Perspective"

Nashville, Tennessee (October 28, 1986)

"Effective Opening Statements - One Attorney's View"

Tuscaloosa, Alabama (September 12, 1986)
Knoxville, Tennessee (October 17, 1986)
Johnson City, Tennessee (November 7, 1986)

"Recognizing the Claim - Medical Malpractice"

New York, New York (July 15, 1986)

Participant, Medical Malpractice Mock Trial

Nashville, Tennessee (December 2, 1986)

"Discovery Basics"

Nashville, Tennessee (May 20, 1987)
Nashville, Tennessee (October 7, 1987)

"Civil Practice - Plaintiff's Perspective"

Nashville, Tennessee (October 27, 1987)

"Arguing Damages On Behalf of the Elderly"

Dallas, Texas (October 24, 1987)

Panelist, "Perinatal Asphyxia - Who's at Fault?"

Pediatric Grand Rounds, Vanderbilt University Medical Center

Nashville, Tennessee (April 6, 1988)

"Accident Arbitration - Plaintiff's Perspective"

Fall Creek Falls State Park (May 6, 1988)

"1988 Legislative Update"

Memphis, Tennessee (June 16, 1988)

"How an Attorney for the Plaintiff Evaluates Malpractice Cases"

Incoming House Staff Orientation, Vanderbilt University Medical Center

Nashville, Tennessee (June 27, 1988)

Faculty, National Institute of Trial Advocacy (NITA)

Nashville, Tennessee (June 1988)

"Civil Practice - Plaintiff's Perspective"

Nashville, Tennessee (October 24, 1988)

"Requests to Admit"

Murfreesboro, Tennessee (December 2, 1988)

"Arguing Damages on Behalf of the Elderly"

Tampa, Florida (February 2, 1989)
Nashville, Tennessee (May 26-27, 1989)

"Evaluating the Medical Negligence Claim"

Bowling Green, Kentucky (June 16, 1989)

"Civil Litigation"

Tennessee Young Lawyers Conference - Tennessee Bar Association

Nashville, Tennessee (October 23, 1989)
Knoxville, Tennessee (October 24, 1989)
Memphis, Tennessee (November 7, 1989)

"Motion Practice"

Tennessee Young Lawyers Conference - Trial Practice Institute

Nashville, Tennessee (October 20, 1989)
Kingsport, Tennessee (November 16, 1989)
Knoxville, Tennessee (November 17, 1989)
Memphis, Tennessee (December 8, 1989)

"Evaluating Potential Medical Negligence Claims (How to Avoid Misery and Financial Ruin in Case Selection)"

Upper Cumberland Trial Lawyers Association Annual Seminar (August 31, 1990)
Trial Strategies Seminar – Nashville Bar Association (February 18, 1997)

Panelist, Senior Safety Conference, Sponsored by Association of Trial Lawyers of America and Johns Hopkins Injury Prevention Center

Washington, D.C. (October 10, 1990)

"Requests for Admissions - Another Weapon in the Trial Lawyer's Arsenal"

Wisconsin State Bar Association Midwinter Convention

Milwaukee, Wisconsin (January 17, 1991)

"Duty to Warn of Potential Drug Interactions: The Pharmacist's Role"

ATLA National College of Advocacy Seminar

Chicago, Illinois (May 16-17, 1991)

Emerging Trends in Litigation Seminar

Washington, D.C. (October 16-17, 1991)

Georgia Trial Lawyers Seminar

Atlanta, Georgia (December 13, 1991)

Alabama Trial Lawyers Association

Birmingham, Alabama (January 24, 1992)

Tennessee Pharmacists Association

Nashville, Tennessee (June 22, 1992)

Mississippi Trial Lawyers Association

Tupelo, Mississippi (November 20, 1992)

Kentucky Academy of Trial Attorneys

Louisville, Kentucky (September 24, 1993)

Southern Trial Lawyers Association

New Orleans, Louisiana (February 1994)

Mississippi Trial Lawyers Association

Biloxi, Mississippi (May 19-20, 1994)

Mississippi School of Pharmacy

Oxford, Mississippi (July 1995)

"Tennessee Law of Comparative Fault" 1992 Update

Tennessee Trial Lawyers Association Annual Convention

Nashville, Tennessee (June 1992)

Nashville Bar Association

Nashville, Tennessee (June 1992)

Nashville Bar Association Back to School Seminar

Nashville, Tennessee (October 12, 1993)

"Continuing Legal Education"

Association of Trial Lawyers of America & NATLE Leadership/Legislative Conference

Santa Fe, New Mexico (November 13-14, 1992)

"Appellate Practice & Procedure"

Tennessee Trial Lawyers Association Annual Review Seminars

Chattanooga, Tennessee (November 1992)
Memphis, Tennessee (November 1992)
Knoxville, Tennessee (December 1992)
Nashville, Tennessee (December 1992)

"New Issues Facing the Trial Lawyer"

Tennessee Trial Lawyers Association Seminars on Applying the New Comparative Negligence Law to Your Tort Cases

Cookeville, Tennessee (March 1993)
Jackson, Tennessee (March 1993)
Knoxville, Tennessee (March 1993)

"Tennessee Law of Comparative Fault" 1995 Update

Tennessee General Sessions Judges Conference

Knoxville, Tennessee (September 28, 1995)

Tennessee Judicial Conference

Sparta, Tennessee (October 25, 1995)

Upper Cumberland Bar Association

Cookeville, Tennessee (November 17, 1995)

"Accident Reconstruction"

ATLA Workhorse Seminar

Dallas, Texas (September 23, 1995)

"Federal Court Litigation"

Nashville, Tennessee (November 14, 1995)

"Tennessee Law of Comparative Fault" 1996 Update

Tennessee Trial Lawyers Association

Nashville, Tennessee (February 13, 1996)
Memphis, Tennessee (March 29, 1996)

Tennessee Bar Association

Memphis, Tennessee (May 2, 1996)
Knoxville, Tennessee (May 9, 1996)
Nashville, Tennessee (May 16, 1996)

Tennessee Judicial Conference (October 22-25, 1996)

"Twenty-Five (or so) Things to Think About As We Struggle to Juggle Our Law Practice and Our Life"

Kentucky Academy of Trial Attorneys (September 19-20, 1996)

"Damages - How to Protect Your Client from Ruining the Case and Other Tips"

Trial Strategies Seminar – Nashville Bar Association (February 18, 1997)

"Tennessee Law of Comparative Fault" 1997 Update

Tennessee Trial Lawyers Association (February 11, 1997)
Bench Bar Conference – Memphis Bar Association

Hot Springs, Arkansas (March 21, 1997)

Tennessee Bar Association

Knoxville, Tennessee (May 16, 1997)
Nashville, Tennessee (May 22, 1997)
Memphis, Tennessee (May 30, 1997)

Tennessee Judicial Conference (September 26, 1997 and October 21, 1997)
Montgomery County Bar Association (December 1997)
Tennessee Bar Association (January 1998)
Tennessee Trial Lawyers Association (February 1998)

"Trial Notebooks"

Nashville Bar Association (June 19, 1997)
Attorneys General CLE Program (July 16, 1997)

"Preparing Yourself to Win"

Kentucky Academy of Trial Attorneys

Louisville, Kentucky (September 18-19, 1997)

"Evaluating the Potential Medical Negligence Case"

Middle Tennessee Paralegal Association (October 10, 1997)

"Tort Law" 1997 Update

Tennessee Trial Lawyers Association

Knoxville, Tennessee (November 15, 1997)
Chattanooga, Tennessee (November 22, 1997)
Memphis, Tennessee (December 6, 1997)
Nashville, Tennessee (December 13, 1997)

"The Importance of Front Wheel Brakes on Commercial Trucks"

Association of Trial Lawyers of America

Maui, Hawaii (February 1998)

"Tennessee Law of Comparative Fault" 1998 Update

Tennessee Bar Association

Knoxville, Tennessee (May 1, 1998)
Memphis, Tennessee (May 8, 1998)
Nashville, Tennessee (May 15, 1998)

Tennessee Trial Lawyers Association

Nashville, Tennessee (June 1998)

Tennessee Judicial Academy

Nashville, Tennessee (August 1998)

Montgomery County Bar Association

Clarksville, Tennessee (September 1998)

Nashville Bar Association

Nashville, Tennessee (November 1998)

"In Search Of … Charting Your Course As A Lawyer"

Association of Trial Lawyers of America

Washington, D. C. (July 1998)

Kansas Trial Lawyers Association

Kansas City, Missouri (December 1998)

"Tort Law" 1998 Update

Tennessee Trial Lawyers Association

Memphis, Tennessee (November 1998)
Knoxville, Tennessee (December 1998)

"The 'How To's of Hot Work"

Association of Trial Lawyers of America

San Antonio, Texas (January 1999)

"Tennessee Law of Comparative Fault" 1999 Update

Tennessee Trial Lawyers Association

Nashville, Tennessee (February 1999)

Tennessee Judicial Conference

Montgomery Bell State Park, Tennessee (April 1999)

Tennessee Bar Association

Knoxville, Tennessee (May 1999)
Nashville, Tennessee (May 1999)

Tennessee Trial Lawyers Association

Gatlinburg, Tennessee (June 1999)

Tennessee Judicial Conference

Montgomery Bell State Park, Tennessee (October 1999)

"Accurately and Ethically Evaluating the Medical Negligence Case"

Association of Trial Lawyers of America

Safety Harbor, Florida (February 1999)

"Negotiation and Settlement Techniques"

Association of Trial Lawyers of America

Safety Harbor, Florida (February 1999)

"Accident Reconstruction: When and How to Use an Accident Reconstructionist"

Association of Trial Lawyers of America

New Orleans, Louisiana – April, 1999

"Trial Notebooks and Other Organizational Tools"

Nashville Bar Association

Nashville, Tennessee (June 1999)

"Update of Important Tort Cases in the Last Twelve Months"

Tennessee Trial Lawyers Association – 1999 Annual Review

Memphis, Tennessee (December 9, 1999)
Knoxville, Tennessee (December 11, 1999)
Nashville, Tennessee (December 18, 1999)

"The Use of Summary Judgment Principles to Defeat Motions for Summary Judgment"

Association of Trial Lawyers of America

San Juan, Puerto Rico (January 2000)
Nashville, Tennessee (February 2000)
New Orleans, Louisiana (March 2000)

"Ethical Issues Facing Trial Lawyers"

Arkansas Trial Lawyers Association

Eureka Springs, Arkansas (May 2000)

"Tennessee Law of Comparative Fault" 2000 Update

Tennessee Trial Lawyers Association

Memphis, Tennessee (June 2000)

Tennessee Bar Association

Destin, Florida (June 2000)

Tennessee Judicial Academy

Nashville, Tennessee (August 2000)

"Tort Law" 2000 Update

Tennessee Trial Lawyers Association

Nashville, Tennessee (December 2000)

"Tennessee Comparative Fault and Tort Update"

John Dice Seminar

Memphis, Tennessee (January 2001)

"Comparative Fault After Dodson and Carroll"

Tennessee Trial Lawyers Association

Nashville, Tennessee (February 2001)

"Tennessee Law of Comparative Fault" 2001 Update

Nashville School of Law

Nashville, Tennessee (May 2001)

"Trial Preparation: Organizing Yourself for Victory"

The Kentucky Academy of Trial Attorneys

Louisville, Kentucky (June 2001)

"Annual Review Torts & Comparative Fault"

Tennessee Trial Lawyers Association

Chattanooga, Tennessee (September 2001)

Montgomery County Bar Association

Clarksville, Tennessee (November 2001)

Rutherford County Bar Association

Murfreesboro, Tennessee (November 2001)

"Tennessee Law of Comparative Fault" 2002 Update

Tennessee Trial Lawyers Association

Nashville, Tennessee (February 2002)

"Management and Trial Preparation: Organizing Yourself for Victory"

Nashville Bar Association

Nashville, Tennessee (May 2002)

"Effective Deposition Preparation and Strategy"

Mississippi Trial Lawyers Association

Biloxi, Mississippi (June 2002)

"Comparative Fault in Tennessee"

Tennessee General Sessions Judges Conference

Jackson, Tennessee (September 2002)

Tennessee Trial Lawyers Association

Chattanooga, Tennessee (September 2002)
Knoxville, Tennessee (October 2002)
Nashville, Tennessee (December 2002)

"Tennessee Governmental Tort Liability Act"

Tennessee Judicial Conference

Fall Creek Falls, Tennessee (October 2002)

"Unlocking The Power Of The Law, Fundamentals Of Civil Litigation In Tennessee"

Branham & Day, P.C., Sponsor (December 17-18, 2002)
Speeches:

"Charting Your Course"
"Deciding Whether to Accept Representation"
"In The Midst of the Litigation"
"The Responsibility of Being A Trial Lawyer"

"Evaluating the Potential Medical Negligence Case"

Mississippi Trial Lawyers Association

Biloxi, Mississippi (September 5, 2003)

Tennessee Trial Lawyers Association

Nashville, Tennessee (December 4, 2003)

"Unlocking The Power Of The Law, Fundamentals Of Civil Litigation In Tennessee"

Branham & Day, P.C., Seminar Sponsor – December 16-17, 2003
Speeches:

"Charting Your Course"
"Deciding Whether to Accept Representation"
"In The Midst of the Litigation"
"The Responsibility of Being a Trial Lawyer"

"Trial Notebooks and Other Organization Techniques"

Nashville Bar Association, Young Lawyers Division

Nashville, Tennessee (April 15, 2004)

"How To Stop Your Clients From Calling Lance, et al." (Attorney-Client Relations)

Tennessee Board of Professional Responsibility

Nashville, Tennessee – August 20, 2004

"Unlocking The Power Of The Law, Fundamentals Of Civil Litigation In Tennessee"

Branham & Day, P.C., Seminar Sponsor (November 17-18, 2004)
Speeches:

"Charting Your Course"
"Deciding Whether to Accept Representation"
"In The Midst of the Litigation"
"The Responsibility of Being A Trial Lawyer"

"Wrongful Death in Tennessee – A Plaintiff's Perspective"

Branham & Day, P.C. Seminar Sponsor (December 21, 2004)
Speeches:

"Overview of the Law – Statutory and Case Law Considerations"
"Assessing and Preparing the Case"
"The Law of Damages"
"Trial Considerations"
"Post-Trial/Post-Recovery Considerations"
"Ethical Issues"

"Tort and Comparative Fault Law Update"

Tennessee Trial Lawyers Association

Nashville, Tennessee (February 23, 2005)

Rutherford County Inns of Court

Murfreesboro, Tennessee (April 28, 2005)

"Unlocking The Power Of The Law: Fundamentals of Civil Litigation in Tennessee"

Branham & Day, P.C., Seminar Sponsor (December 14-15, 2005)
Speeches:

"Charting Your Course"
"In The Midst of the Litigation"
"Avoiding Litigation Insomnia"

"Beyond The Fundamentals of Civil Litigation"

Branham & Day, P.C., Seminar Sponsor (December 19, 2005)
Speeches:

"Case Evaluation – Checking the Water Before Diving In"
"Using Civil Motions to Safeguard Your Clients' Interests"
"Depositions – Winning Before the Deposition Starts"

"Leadership Roundtable"

Tennessee Bar Association Leadership Conference

Dickson, Tennessee (January 6, 2006)

"Preparing for Cross-Examination"

Tennessee Trial Lawyers Midwinter Conference

Nashville, Tennessee (February 1, 2006)

"Tennessee Tort Law: What's Hot, What's Next"

M. Lee Smith Publishing Audio Seminar (August 15, 2006)

"Leadership Roundtable"

Tennessee Bar Association Leadership Conference

Dickson, Tennessee (January 2007)

"Business Litigation"

Las Vegas, Nevada (March 28 -29, 2007)

"Effective Deposition Preparation and Strategy"

Nashville Bar Association

Nashville, Tennessee (July 2007)

"Tort Law" 2007 Update

Tennessee Administrative Office of the Courts (Judicial Clerks)

Nashville, Tennessee (August 2007)

"Tort and Comparative Fault Law Update"

Upper Cumberland Bar Association

Cookeville, Tennessee (October 2007)

"Intentional Interference with Expectancy of Inheritance"

Nashville Bar Association

Nashville, Tennessee (October 2007)

Panelist, "Techniques of Persuasion"

Tennessee Bar Association

Nashville, Tennessee (December 2007)

"The Economics of Case Acceptance"

Kentucky Academy of Trial Attorneys Seminar

Destin, Florida (April 5, 2006)

Memphis Bar Association

Memphis, Tennessee (January 2008)

Williamson County Inn of Court

Franklin, Tennessee (January 2008)

Ohio Association for Justice

Columbus, Ohio (September 2008)

North Carolina Advocates for Justice

Sunset Beach, North Carolina (June 2009)

Moderator and Organizer, "Masters at Trial"

Tennessee Bar Association

Nashville, Tennessee (April 2008)

"60 Statutes (and Rules) in 60 Minutes: What You Need to Know"

Tennessee Association for Justice

Gatlinburg, Tennessee (June 2008)

"Torts and Comparative Fault – Practice Update"

Tennessee Bar Association – General Practice Summit

Nashville, Tennessee (August 2008)

"Fundamentals Of Civil Litigation In Tennessee"

Day & Blair, P.C., Seminar Sponsor (December 15-16, 2008)
Speeches:

"Charting Your Course"
"Deciding Whether to Accept Representation"
"60 Statutes in 60 Minutes"
"In the Midst of Litigation"
"The Law of Trial"
"How to Be a Great Trial Lawyer"

"The Law of Trial: Motions in Limine and Jury Instructions"

Tennessee Association for Justice

Nashville, Tennessee (February 2009)

"Changes to the TRCP and Rules of Evidence that Will Affect Domestic Cases"

Tennessee Association for Justice

Nashville, Tennessee (April 2009)

"Discovery – Effective Deposition Preparation and Strategy"

Tennessee Bar Association – Trial Practice for Today's Litigator

Nashville, Tennessee (April 2009)

Panelist, "Comparative Fault"

Tennessee Association for Justice

Memphis, Tennessee (June 2009)

"Torts and Comparative Fault – Practice Update"

Tennessee Bar Association – General Practice Summit

Nashville, Tennessee (August 2009)

Panelist, "Negotiation"

Nashville Bar Association

Nashville, Tennessee (November 2009)

Moderator, Litigation at Sunrise

American Association for Justice

Kannapoli, Maui, Hawaii (February 2010)

"Changes to the TRCP and Rules of Evidence that Will Affect Domestic Cases"

Tennessee Association for Justice

Nashville, Tennessee (April 2010)

"Charting Your Course and Defining Your Practice"

American Association for Justice

Las Vegas, Nevada (April 2010)

"Getting a Grasp on Costs to Enhance Profitability"

American Association for Justice

Las Vegas, Nevada – April 2010

"Economics of Case Selection"

Tennessee Association for Justice

Murfreesboro, Tennessee (June 2010)

Arkansas Trial Lawyers Annual Convention

Little Rock, Arkansas (April 2011)

Kentucky Justice Association

Louisville, Kentucky (September 2011)

"Effective Deposition Preparation and Strategy"

Tennessee Association for Justice

Murfreesboro, Tennessee (June 2010)

"Things That Go Bump in the Night: Avoiding Litigation Insomnia"

Rutherford County Bar Association

Murfreesboro, Tennessee (June 2010)

"On the Road Again: Litigation Against Tour Bus Companies"

American Association for Justice

Vancouver, British Columbia (July 2010)

"Damages Under the New Tort Law"

Nashville Bar Association

Nashville, Tennessee (September 2011)

Panelist, "Summary Judgments Post-Hannan: Judicial and Legislative Developments"

Tennessee Judicial Conference

Franklin, Tennessee (October 2011)

"Legal Liabilities for Parents"

Montgomery Bell Academy

Nashville, Tennessee (November 2011)

"Economics of Law Practice"

American Association for Justice

Chicago, Illinois (July 2012)

"The Best Way to Deal with Problem Clients – Let Them Hire a Different Lawyer"

Nashville Bar Association

Nashville, Tennessee (September 2012)

"Tort Law" 2012 Update

Tennessee Judicial Conference

Franklin, Tennessee (October 2012)
Knoxville, Tennessee (March 2013)

Panelist, "The Cost of Leadership"

Tennessee Bar Association Leadership Law Opening Retreat

Burns, Tennessee (January 2013)
Burns, Tennessee (January 2014)
Burns, Tennessee (January 2015)

"Civil Update"

Tennessee Judicial Conference

Franklin, Tennessee (October 2013)

"Made Whole Made Fair"

Belmont University Law Review Symposium

Nashville, Tennessee (November 2013)

"Tort Reform: What's Happening in the Courts?"

Nashville Bar Association

Nashville, Tennessee (December 2013)

"Preparing to Win at Trial"

Memphis Bar Association

Memphis, Tennessee (July 2014)

Nashville Bar Association

Nashville, Tennessee (August 2014)

Rutherford/Cannon County Bar Association

Murfreesboro, Tennessee (August 2014)

Dickson County Bar Association

Dickson, Tennessee (September 2014)

Bradley County Bar Association

Cleveland, Tennessee (September 2014)

Franklin County Bar Association

Decherd, Tennessee (October 2014)

Maury County Bar Association

Columbia, Tennessee (November 2014)

Institute for Continuing Legal Education in Georgia

Amelia Island, Florida (November 2014)

Bedford County Bar Association

Shelbyville, Tennessee (November 2014)

Montgomery County Bar Association

Clarksville, Tennessee (February 2015)

National Association of Legal Professionals

Nashville, Tennessee (February 2016)

Nashville Bar Association / Tort and Insurance Forum

Nashville, Tennessee (March 2016)

National Association of Legal Professionals

Murfreesboro, Tennessee (October 2016)

Tennessee Attorney General's Office

Nashville, Tennessee (September 2017)

"Lawyer's Perspective"

Nashville School of Law Cooper Term First Year Orientation

Nashville, Tennessee (August 2014)

"Motions that Matter"

Tennessee Association for Justice

Memphis, Tennessee (June 2015)

Coffee County Bar Association

Manchester, Tennessee (June 2015)

Rutherford County Bar Association

Murfreesboro, Tennessee (October 2015)

Panelist, "Case Selection and Screening – Tips and Techniques to be More Efficient with Your Efforts"

American Association for Justice Annual Convention

Montreal, Canada (July 2015)

Panelist, "Legal Realities"

Montgomery Bell Academy

Nashville, Tennessee (November 2015)

"Thoughtful Evaluation and Selection of Contingent-Fee Clients"

Nashville Bar Association

Nashville, Tennessee (March 2016)

"Thoughts About Comparative Fault and Tenn. Code Ann. § 20-1-119"

Nashville School of Law

Nashville, Tennessee (May 2016)

"Charting Your Course"

Nashville Bar Foundation

Nashville, Tennessee (April 2017)

"Autonomous Vehicles"

Tennessee Trial Lawyers Association

Nashville, Tennessee (September 2017)
Bar Service
Tennessee Judicial Evaluation Commission

(Appointed by Lieutenant Governor John Wilder in November 2003)
Member (2003 – 2009)

Tennessee Judicial Performance Evaluation Commission

(Appointed by Speaker Kent Williams in August 2009)
Chairperson (2009 – 2012)

American Law Institute – Members' Consultative Groups

Restatement Third, Torts

Economic Torts and Related Wrongs (2007 – Present)
Liability for Physical and Emotional Harm (2006 – Present)
Annual Meetings Attended – San Francisco, CA (2007) and Washington, D.C. (2008, 2009, 2010, 2011, 2012)
Members Consultative Groups Attended – Austin, TX (2008)

Tennessee Supreme Court Commission on Continuing Legal Education and Specialization

Member (2001 – 2007)
Vice-Chair (2005)
Chair (2006)

Tennessee Supreme Court Advisory Commission on the Rules of Practice And Procedure
Tennessee Supreme Court Commission on Dispute Resolution

Member (1992 – 1995)
(Participated in drafting original ADR Rule)

Tennessee Judicial Conference - Committee on Pattern Jury Instructions (Civil)

Consultant (1995 – Present)

National Board of Legal Specialty Certification (formerly National Board of Trial Advocacy)

President (2003 – 2004)
President Elect (2002 –2003)
Vice President (2001 –2002)
Board of Directors (1998 – 2013)
Standards Committee (1998 – 2004; 2005 – 2013)
Chair, State Relations Committee (2000 – 2004)
Treasurer (2008-2009, 2009 – Jan. 1, 2010)

Tennessee Trial Lawyers Association

Board of Governors (1984 – Present)
Executive Committee (1985 – 1995)
Treasurer (1985 – 1989)
Vice President-Middle Tennessee (1989 – 1992)
President Elect (1992 – 1993)
President (1993 – 1994)
Immediate Past President (1994 – 1995)
Continuing Legal Education Committee (1984 – 1992)

Chairperson (1985 – 1986, 1991 – 1992)

Legislative Committee (1984 – Present)

Chairperson (1987 – 1990)

Mandatory Continuing Legal Education Committee (1984 – 1985)
Public Relations Committee (1986 – 1988)
Long Range Planning Committee (1991 – 1994)
Convention Chair (1997, 2000, 2001)
Mid-Winter Convention Chair (2000, 2001, 2002, 2003)

Association of Trial Lawyers of America

President's Club, Charter Member (1999 – Present)
ATLA's Leader's Forum (2002 – 2006, 2008 - Present)
Tennessee Public Relations Representative (1986 – 1988)
People's Law School Committee

Co-Chairperson (1986 – 1988)

Public Relations Committee (1986 – 1995)
Public Relations Steering Committee

Chairperson (1988 – 1989)

Publications Committee (1990 – 1991)

Vice-Chairperson (1991 – 1992)
Co-Chairperson (1992 – 1993)

Education Committee (1987 – 1988)
Public Affairs Committee (1987 – 1989)
Keyperson Committee (1987 – 1989)
Nursing Home Litigation Group

Member (1985 – 1990)
Chairperson (1987 – 1989)

Federal Rules, Jurisdiction and Venue Committee (1989 – 1995)
Chair, Counsel of State Presidents (1994 – 1995)
Executive Committee (1994 – 1995)

Representative; ALI's Restatement (Third) of Torts
"Apportionment of Fault" Committee (1995 –1997)
"General Principles" Committee (1998 – 2001)
Trustee, National College of Advocacy, (2009-2012)

Nashville Bar Association

Fee Disputes Committee (1983 – 1984)
Circuit and Chancery Court Committee (1984 – 1985) (1987)

Vice-Chairperson (1988)
Chairperson (1989)
Board of Directors (1998 – 2000)
Finance Committee (1998)
Executive Committee (1999)

Kentucky Academy of Trial Attorneys
Southern Trial Lawyers Association

Board of Directors (1997 – 2005)

Lawyers Involved for Tennessee

Adjunct Member (1987 – 1988)
Trustee (1988 – 2016)
Secretary (2005 – 2016)

Local Rules Committee, United States District Court for the Middle District of Tennessee
Tennessee Bar Association

Litigation Section Council (1989 – 1992)
Chair, Tort and Insurance Practice Section (2007 – 2008)

Harry Phillips American Inns of Court
Tennessee John Marshall American Inns of Court
Civil Justice Reform Act Advisory Group

United States District Court Middle District of Tennessee
Member (1991-1995)

American Civil Liberties Union

Statewide Legal Committee (1992-1994)

Tennessee Justice Center

Board of Directors (1999 – 2005)

Tennessee Supreme Court Historical Society
American College of Trial Lawyers

State Committee (2002 – 2007)
State Vice-Chair (2011 – 2012)
State Chair (Fall 2012 – Fall 2014)
Regent (Fall 2017 – Fall 2020)

Editorial Board, Everyday Law (1987-1989)

Chairperson (1988 – 1989)

United States Supreme Court Historical Society

Middle Tennessee Membership Chair (Spring 2016)
Awards
Tennessee Lawyer, Best Civil Litigator (Spring 2001)
Nashville Business Journal, Best of the Bar (2006, 2007, 2014, 2015, 2016, 2017)
Mid-South Super Lawyers
Top 100 Lawyers in Tennessee (2006 – present)
Tennessee Business Magazine, Best 140 Lawyers (2007)
Business TN Magazine, Best 150 Lawyers (2008, 2009, 2010)
Nashville Post, Nashville's 101 Top Lawyers – Medical Malpractice (2011)
Nashville Lifestyles, Top 50 Attorneys in Nashville (2016)
Martindale-Hubbell, AV® Preeminent™ (1993 - Present)