Surf or Flow Ride Accidents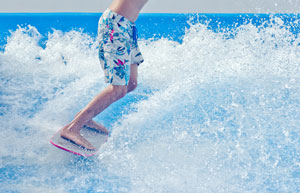 Surf rides are popular attractions at many water parks. The ride consists of a thin sheet of water flowing over a sloped surface. Designed to simulate a variety of sports including surfing, snowboarding, wakeboarding and skate boarding, the ride is challenging to master. Therefore, it is essential for water parks to provide adequate instructions and warnings to riders. Just as importantly, the ride must be maintained properly especially the padding surrounding the ride.
Even if you have signed a release or waiver, depending upon the circumstances, you may still be able to make a claim if you have been injured on a surf or flow ride. To review your case with one of our award-winning attorneys, call us anytime at 615-742-4880 or toll-free at 866.812.8787 or fill out this online form and we will call you. We offer a free, no-obligation consultation. And, we handle all injury cases on a contingency basis which means we only get paid if we recover money for you.