Water Slide Accidents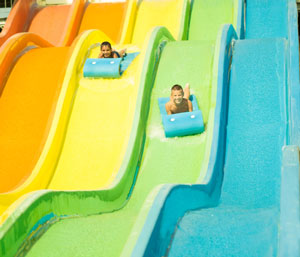 Whether you like to enjoy the water slides at SoundWaves at the Opryland Hotel, Boro Beach in Murfreesboro, Nashville Shores, Dollywood's Splash Country or any other water park in Tennessee, you know that water slides are thrilling and fun, but they can also be very dangerous if safety is not a priority at the water park. Water slides often mimic the turns and drops of a roller coaster, but unlike a roller coaster, the rider is not restrained. So if the water flow is too high, the rider can be thrown from the ride and suffer serious injuries. Or another common mechanism of injury is ride attendants who fail to ensure proper rider spacing. If riders are not spaced appropriately, they can collide on the ride itself or the second rider can collide with the first rider as the first rider is trying to exit the ride. Water slide injuries can also occur if the pool at the bottom is not sized properly or has not been filled to an adequate water level. Improper design, construction or maintenance can cause many water slide injuries. Finally, the water slide accident may be attributed to an act or omission by the water slide staff.

If you or a loved one has been injured on a water slide, we urge you to contact us immediately so that we can begin a prompt investigation into the accident. It is critically important to quickly document the condition of the accident scene as well as interview any witnesses. It will not cost you a penny to see if you have a potential case. At the Law Offices of John Day, we gladly offer a free, initial evaluation. If we think we can help you with your water slide case and you decide to hire us, our award-winning attorneys handle all water slide accident cases on a contingency basis so we only get paid if we are successful. We advance all upfront costs so that you are not out-of-pocket any money to pursue your legal rights, and we never charge interest on those advanced expenses.

We have offices located in Nashville, Murfreesboro and Brentwood. All three of our offices have free and convenient parking . And, of course, we are always willing to come to you if you can't come to our office. To get started, simply give us a call. In Nashville, call us at 615-669-3993. Murfreesboro residents can reach us locally at 615-867-9900. In Brentwood, we are located in Maryland Farms and can be reached at 615-742-4880 or you can always call us toll-free at 866-812-8787. Finally, if you prefer, simply complete this online form and we will call you.

For more information on the what to expect from the litgation process, we encourage you to read some of the links below:

What Are the Deadlines for Filing a Lawsuit in Tennessee?

What Is My Personal Injury or Wrongful Death Case Worth?

What Happens After I Hire You As My Lawyer?

What Questions Should I Ask When Hiring a Personal Injury Lawyer?