Water Park Accidents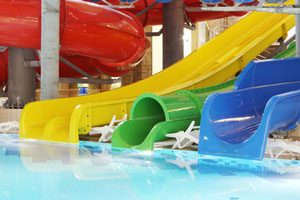 In North America, there are more than 1,200 water parks, and the annual visitor attendance is roughly 85 million in just the summer months alone. And while water parks can provide lots of fun for you and your family, unless proper safety measures are followed, they can also be the source of drowning and near-drowning accidents as well as other serious injuries including brain injuries, orthopedic injuries, spinal injuries, etc.
Water park accidents can be caused by many factors, but some of the most common include:
Poor ride design or construction;
Improper maintenance and safety inspections;
Failure to properly train or supervise staff and ride attendants;
An inadequate number of life guards;
Inattentiveness of the life guards;
Failure to enforce weight and height restrictions for the ride;
Improper water flow or water capacity;
Failure to properly monitor capacity;
Missing or inadequate barriers;
Failure to train staff on how to properly respond to an emergency;
Failure to control rowdy or intoxicated guests.
For more information on water park accidents, click on the links below:
If you or a loved one has been injured in a water park accident in Tennessee or you are a resident of Tennessee who has been injured at a water park outside of Tennessee, let one of our award-winning water park accident attorneys review your case in a free, no-obligation consultation. If we think we can help you, we will handle your water park accident case on a contingency basis, which means we only get paid if we win and you do not have to pay anything out-of-pocket to pursue your legal rights. Contact us anytime by either filling out this online form or by calling us at 615-742-4880 or toll-free at 866.812.8787.