Inflatable Water Slide Accidents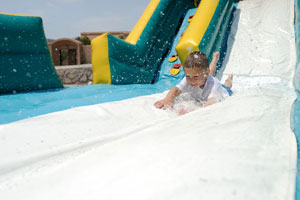 While inflatable water slides are not often seen at major water parks, they are frequently used at municipal, community and private pools and other establishments. Inflatable water slides can provide hours of entertainment but they can also be dangerous.
During use, some inflatable water slides can deflate causing the user to hit the ground or the side of the pool. In fact, a few years ago, the Consumer Product Safety Commission recalled over 21,000 slides because of this hazardous condition.
Another safety risk associated with inflatable water slides is tipping. If the slide is not properly secured, it can topple over causing injury to the rider or those nearby.
Finally, proper supervision is required for inflatable water slides so that riders are adequately timed and spaced to avoid crashes at the bottom.
If you or a loved one has been injured on or by an inflatable water slide, call us anytime at 615-742-4880 or toll-free at 866.812.8787 to discuss your case with one of our award-winning lawyers. We have helped thousands of satisfied clients and we would like to help you too. We handle all inflatable water slide cases on a contingency basis so we only get paid if we recover money for you.