Negligent Life Guards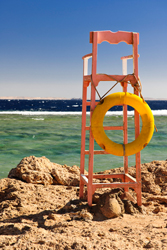 Lifeguards have a tremendous responsibility -- they are charged with the safety and well-being of those under their watch. Unfortunately, some lifeguards do not take this responsibility as serious as they should and the consequences are often tragic.
If a lifeguard is on duty, they have a responsibility to make sure the occupancy of the pool is not exceeded. They should prevent guests from rough-housing or engaging in other unsafe activities such as diving in shallow waters. Responsible lifeguards should constantly scan the waters for swimmers in trouble and follow proper procedures when rescuing and reviving an incapacitated swimmer. If the lifeguard fails in his responsibility, they should be held accountable.
Losing a loved one to a drowning is an unspeakable tragedy. And even if your loved one survives, near-drownings can cause permanent brain injuries that require a life-time of medical care resulting in a huge financial burden for the family. We understand the emotional, physical and financial burdens associated with drowning and near-drowning accidents. And, we want to give you three things:
Justice. If you entrusted your child to the care of a lifeguard and the lifeguard failed to keep your child safe, the lifeguard and his employer (the pool, hotel, water park, summer camp) should absolutely be held accountable.
The compensation you deserve. If you have lost a child, no amount of money will ever ease your loss. But, money can help your family pay medical bills, establish a scholarship in your child's honor, pay for emotional counseling for surviving family members, etc.
Peace of Mind. If the conduct which led to the accident were part of a pattern and practice for the lifeguard or the pool, then it must be stopped. By holding the at-fault parties accountable, you can bring about change and hopefully prevent a similar accident from occurring in the future.
Our experienced Tennessee drowning attorneys are here to help you. Contact us online or call us any time at 615-742-4880 or toll-free at 866.812.8787. Let us fight for you and your family.
Other Drowning Accident Information: