Fitness Center Pool Drowning
Fitness Center Pool -- Gym Pool Drowning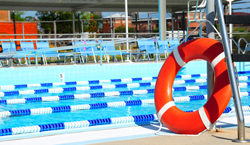 Fitness center pools and gym pools can pose special risks because their users are often pushing themselves physically. By trying to improve their time or their distance, some swimmers can become fatigued or suffer a disabling cramp. In these situations, it is imperative for lifeguards to be attentive to swimmers in trouble and for safety equipment such as defibrillators to be present and in good working condition.
If you or a loved one has been the victim of a drowning or near-drowning, you need a trusted adviser to help you hold the at-fault party responsible. The Tennessee drowning attorneys at The Law Offices of John Day, P.C. have been the voice of injury victims for more than 80 years. We have dedicated our careers to ensuring injury victims receive the justice and the compensation they deserve. We have recovered more than $100 million dollars for our satisfied clients and we are here to help you with your fitness center pool or gym pool injury case.
Anytime there is a drowning or near-drowning accident in a pool, it is imperative for the injury victim to have someone aggressively investigating and pursuing the case. To win your case, you need someone to do an extensive investigation and work-up of your case which may include:
Taking photographs of the pool area and documenting the lack of safety equipment;
Locating and interviewing witnesses;
Obtaining installation and maintenance records for the pool and all related safety equipment;
Obtaining personnel files for any lifeguards on duty at the time of the incident:
Obtaining any video footage of the pools recorded by closed cameras;
Obtaining information on any prior injury accidents at the pool;
Hiring safety and accident reconstruction experts to assist in the case;
Obtaining detailed information related to the design and manufacture of the pool equipment at issue;
Filing suit against the responsible parties which may include the owner of the property, a separate property management company, a separate pool maintenance company, the manufacturer of a piece of pool equipment, etc.;
Propounding written discovery to all at-fault parties;
Conducting depositions of all at-fault parties and relevant witnesses;
Hiring medical and economic experts to fully explain and detail your losses;
Negotiating and communicating with the insurance companies;
Representing you and your interests at all court appearances and at trial, if necessary;
Advancing all case expenses on your behalf;
Our attorneys are experienced in drowning and near-drowning cases and we know how to use all available legal tools to make sure you receive the justice and the compensation you deserve. Contact us online or call us any time of day at 615-742-2880 or toll-free at 866.812.8787 and put us to work for you. But, do not delay. The law only allows you a limited time to seek compensation.

Other Drowning Accident Information: