Public Pool - Community Pool - Municipal Pool Drowning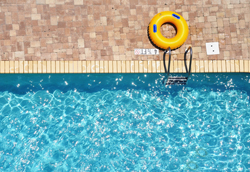 Most of us have fond memories of summers spent swimming, splashing and having fun at the public pool. But for some, the public pool is where their life was tragically and irrevocably altered due to a drowning or near-drowning accident. Because young children are often at public pools, it is even more critical for the pool operator to follow all safety regulations including ensuring the clarity of the water, installing proper and legally-mandated drain covers, etc. In addition, if lifeguards are on duty, there should be a reasonable ratio of life guards to swimmers and the lifeguards must be attentive.
The simple truth is that most drowning and near-drowning accidents are preventable. But, some pool operators are simply not committed to safety and, if their negligence results in a drowning accident, they should be responsible. That is our job -- our team of drowning accident attorneys will help you get the justice and the compensation you deserve. We are committed to pursuing all responsible parties whether it is the manufacturer of the drain cover, the pool operator, a negligent lifeguard or some other careless person.
Some public pools or community pools are operated by governmental entities, which creates a host of legal issues. For instance, in Tennessee, governmental entities are given "sovereign immunity" pursuant to the Governmental Tort Liability Act. Our experienced team of attorneys can tell you if your claim is an exception to the statutory immunity. The Governmental Tort Liability Act also requires you to go through the statutory claims procedure prior to filing suit. And finally, the Act caps the amount of damages recoverable. Our team of pool accident attorneys is well-versed in the law and procedures associated with the Governmental Tort Liability Act, and we are here to help you.
If your child or other loved one has been injured in a swimming pool accident, we understand your devastation and we want to help you hold the at-fault parties responsible. By pursuing your legal rights, you can not only recover the compensation you and your loved one deserve but you can also help deter future accidents by bringing awareness to the issue and making the responsible party change their policies and procedures.
For over 80 years, we have been dedicated to helping families just like yours after life-changing accidents. Contact us today as there is a very limited time to pursue your rights. Call us anytime at 615-742-4880 or toll-free at 866.812.8787. We handle all pool accident cases on a contingency basis.

Other Drowning Accident Information: