Booster Seats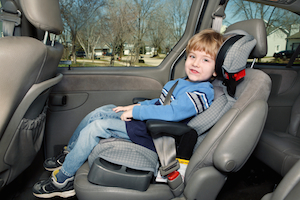 Booster seats are required by Tennessee law if the child is between the ages of 4 and 8 and is less than four feet, nine inches tall. The booster seat should meet Federal Motor Vehicle Safety Standards. The child should utilize the rear seat unless a rear seat is unavailable. If there is not a rear seat, then the booster seat should be used in accordance with the instructions of the vehicle manufacturer. 90% of children under the age of 10 who are just using a seat belt should actually still be in a booster seat.
Booster seats are important because they help insure good seat belt geometry i.e., that the belt is positioned properly across the body. Without good seat belt geometry, an occupant can suffer serious injuries in a crash. For instance, if the seat belt does not fit properly across the occupant's hips, the occupant can submarine underneath the belt. Submarining injuries can be severe or fatal. Children and small women are most at risk for submarining injuries.

In addition, if the belt does not fit properly across the shoulder of the occupant, seat belt roll-out can occur. In this scenario, the shoulder harness slips off the shoulder and the upper body is not properly restrained in the crash. This can cause the occupant's head to strike something inside the vehicle. Even if the head is not injured as a result of seat belt roll-out, the impact forces will be absorbed entirely by the lap belt, which can often cause serious injuries to the internal organs.
As with child seats, a violation of the booster seat provisions of the statute is a Class C misdemeanor. Fines and educational classes may be imposed on violators. If a child is not able to be transported in a typical booster seat, a modified seat or an exemption may be applicable but only if certified in writing by a physician.

If you or a loved one has been injured in a car accident and would like to discuss your case in a free, no-obligation consultation, please call us. We will discuss your case with you and help you understand your options and your legal rights. Our award-winning lawyers handle all injury cases on a contingency basis and we advance all case expenses interest-free, so it will not cost you anything out-of-pocket to pursue your legal rights.

To get started, please call us at:

Nashville: 615-669-3993
Mufreesboro: 615-867-9900
Brentwood: 615-742-4880
Toll-Free: 866-812-8787
Our firm has been helping injury victims for more than 30 years. We know that injury victims have lots of questions and they are nervous about hiring a lawyer. To help injury victims make the right decision, we have a FAQ page with some of the most common questions and issues including:

How to Select an Injury Attorney

How Are Settlements Calculated?

What Are the Deadlines for Filing a Claim?

How to Prepare for a Meeting with an Injury Attorney