Arm Fractures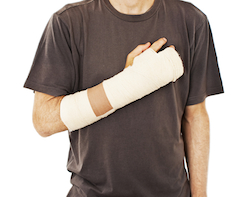 Your arm contains three bones—the radius and ulna in your forearm, and the humerus in your upper arm—and any of these three bones can be fractured. Most people are immediately aware of a broken arm, as they often hear a loud snap or crack at the time of the injury. Because your arm is so important to your day-to-day functioning, it is crucial to get treatment for a broken arm as soon as possible.
Some Common Types of Broken Arms
Elbow Fractures
The elbow joint is made up of portions of all three arm bones. When the elbow suffers a direct blow, which might happen when the elbow hits the dashboard during a car accident, any of these bones can break, resulting in a fractured elbow.
Olceron fractures occur when the pointy "tip" of your elbow breaks. With this type of fracture, you may experience the inability to straighten your elbow; swelling over the fracture site; bruising; and numbness in one or more of your fingers. Following proper treatment and rehabilitation, most patients with olceron fractures can return to their normal activities in about four months, though complete healing may take over a year.
The lower portion of the upper arm bone that forms the elbow can also break, which is known as a distal humerus fracture. These fractures, however, are fairly uncommon, accounting for only about 2% of all bone fractures in adults. These fractures may be caused by a direct blow to the elbow, such as a fall with a landing directly on the elbow or the elbow being struck on a car dashboard or door during an accident. One symptom unique to this type of fracture is a feeling of instability, or the feeling that your elbow wants to "pop out."
Forearm Fractures
The forearm is what allows us to rotate our palms up and down. It contains two bones: the radius and ulna. Breaking the middle of the forearm requires strong force, so in most cases of adult forearm fracture, both of these bones are broken. Most fractured forearms require surgery to properly heal, and full healing may take three to six months. Even after surgery and therapy, though, it is common for stiffness to persist with this type of injury.
Colles' Wrist Fractures
A Colles' wrist fracture occurs when the end of your radius bone near your wrist breaks, potentially causing your wrist to bend in an abnormal way. Depending on the severity of the fracture, you may experience pain when you move your wrist, may be unable to grip with your hand, and may notice swelling and bruising. Whether surgical treatment is required or not, a Colles' wrist fracture can take more than a year to fully heal, with some patients reporting aches and stiffness for up to two years. Further, some people experience carpal tunnel syndrome after suffering this type of broken wrist.
Causes of Broken Arms
The most common cause of a broken arm is falling onto an outstretched hand or elbow. Trauma, however, is also a common cause. Any of your arm bones can break during a motor vehicle accident, bike accident, or pedestrian accident.
Symptoms of Broken Arms
Although the signs and symptoms you experience may depend upon the type of fracture suffered, many fracture types share common indicators. If you have a fractured arm, you are likely to experience severe pain (which likely increases with movement); swelling; bruising; tenderness; stiffness or the inability to move your arm, wrist, or elbow; the inability to rotate your palm up and down; and potentially an obvious, visible deformity (such as a bent arm or wrist).
Treatment for Broken Arms
If the fracture is non-displaced, meaning that the bones are still aligned in their relative position, a broken arm may not require surgical treatment. In such a case, your doctor may use a cast or sling to immobilize the arm while it heals. Many broken arms, though, require surgery for stabilization. Devices such as plates or screws are often used to maintain the proper position of arm bones while they heal. Whether surgery is required or not, treatment for a broken arm almost always requires physical therapy to restore muscle strength, range of joint motion and arm flexibility.
Whether your broken arm is the result of a car accident or a fall on someone else's property, another person's negligence may have played a role in your injury. If you think you may have a case and would like to discuss your legal rights in a free, no-obligation consultation, call us any time at 615-742-4880 or toll-free at 866.812.8787 or fill out this online form and we will contact you. We handle all accident cases on a contingency basis so we only get paid if we recover money for you. We have recovered millions of dollars for our satisfied clients and we may be able to help you too.