Orthopedic Injuries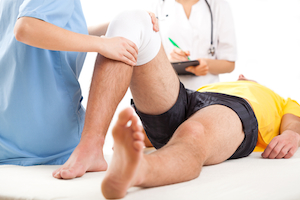 Tennessee Orthopedic Injury Attorneys
Our musculoskeletal system is complex. Comprised of bones, joints, muscles, tendons and ligaments, this system gives us the ability to move our bodies—to walk, run, work, play, and engage in all types of motion that most of us take for granted. An injury to this system, then, can be devastating and have an immediate impact on your ability to function in everyday life.
Orthopedic injuries can range from relatively minor, such as a sprain causing only minor pain, to very serious. The most painful and typically most serious orthopedic injury is the broken bone, or bone fracture.
Fractures occur when great force or impact is exerted on a bone. Fractures are relatively common in the United States, with over 6 million people suffering from a broken bone each year. Fractures may be open (the bone breaks through the skin) or closed (the bone does not break through the skin), and displaced (the broken pieces of the bone are not aligned) or non-displaced (the bone breaks but stays aligned).
Causes of Bone Fractures
Because of the force required to break a bone, these injuries are often caused by motor vehicle accidents. Broken bones may also result from pedestrian accidents, bicycle accidents, and slip and falls.
Damages for Bone Fractures
Bone fractures may be caused by another person's negligence. For example, a bone fracture can occur when a driver is not taking proper care and runs into another vehicle, or a broken bone can result from another person's failure to keep their property reasonably safe. In such instances, you may be entitled to recover damages, potentially including compensation for pain and suffering, past and future medical treatments, lost wages from time off work, and lost earning capacity.
Properly handling an orthopedic injury case requires experience. Case investigation may require experts or accident reconstructionists, and you need an attorney who will make sure that your case is fully prepared. If you or someone you love has broken a bone due to the negligence of another party, call us at 615-742-4880 or toll-free at 866.812.8787 for a free, no-obligation consultation. We will review your orthopedic injury case with you, letting you know whether we can help. And because we take broken bone cases on a contingency fee basis, we do not get paid unless we win your injury case.