Hip Fractures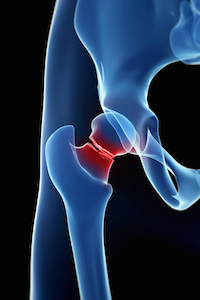 A hip fracture is a break in the upper part of the femur (thighbone) or the pelvic bone. Hip fractures are serious injuries and can have life-threatening complications.
Broken hips are typically associated with falls, especially among older people. However, a severe impact, such as a car crash, can cause hip fractures in people of all ages.
Symptoms of Hip Fractures
If you have suffered a broken hip, you may experience a variety of symptoms, including: the inability to move; severe pain in your hip or groin area, especially with any attempt to flex or rotate the hip; the inability to put weight on your leg; stiffness, bruising, and/or swelling around your hip; the leg associated with your injured hip turning outward.
Treatment of Hip Fractures
Broken hips are usually treated with a combination of surgery, therapy, and medication. Surgery to repair a hip fracture may include the use of metal screws or rods to hold the bone in place, or even replacement of part of the femur bone or the entire hip joint. Following surgery, you may need to use a walker or wheelchair to help regain independence. Further, therapy and rehabilitation are vital to regaining strength and range of motion. Physical therapy following a hip fracture may take up to three months.
If you have suffered a broken hip due to someone else's negligence, we may be able to help. Contact our experienced attorneys at 615-742-4880 or toll-free at 866.812.8787 and let us review your case for free and without obligation. We handle all accident cases on a contingency basis so we only get paid if we recover money for you.