Train Crossing Accidents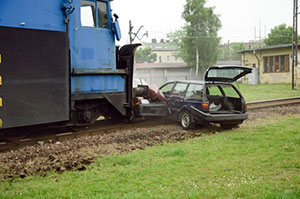 Tennessee has 4,624 railroad crossings. In 2012, there were 66 crossing accidents which resulted in 4 fatalities and many more injuries. For 2013, there have been 2 fatalities in crossing accidents. These statistics include motor vehicles and other roadway and pedestrian users at both private and public crossings.
In the past three years, according to the Federal Railway Adminisitration, Tennessee train crossing accidents have involved the following railroad companies:
NS Norfolk Southern
CSX Transportation
BNSF Railway
Nashville & Easter RR Corp
IC Illiniois Central RR Co.
Nashville & Western RR Corp.
Kansas City Southern Rwy Co.
Amtrak
NRTX Regional Transportation Authority
SCTRR, LLC
Tennken RR Co, Inc.
Tennessee Southern RR Co.,Inc.
Knoxville & Holston River RR Co., Inc.
RJ Corman RR Co./Tennessee Term, LLC
Tennessee Central Rwy Museum
Tennessee Valley RR
Railroad crossing accidents can be caused by many factors but some of the more common causes are defective signals and gates, speeding trains, conductors who fail to use their horn and crossings with obstructed views.
If you or a loved one has been injured in a railroad crossing accident, we can help. Simply call our office to schedule a free, no-obligation consultation with one of our award-winning lawyers who will review your case, answer your questions and explain your rights in clear terms. Call us anytime at 615-742-4880 or toll-free at 866.812.8787 or simply fill out this form and we will call you. We handle all train accident cases on a contingency basis so we only get paid if we recover money for you.