Train Safety Trips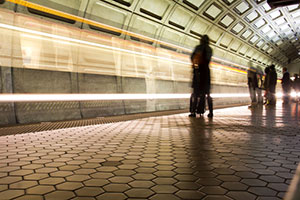 As a passenger on a train, you are placing your well-being in the hands of the train personnel and train company, but there are things you can do to help avoid being involved in a train accident.
Stay alert. In today's world, all too often we are more tuned into our mobile devices than we are in the world around us. It is important to heed warning signs and signals and to be able to hear your surroundings.
To prevent accidental falls on to the tracks, stand back from the edge of the platform until time to board.
Exercise care in getting on and off the train. Be mindful of closing doors and gaps between the platform and train.
If standing while the train is in operation, hold on to poles or hand grips to keep your balance and prevent falls.
Listen and follow the instructions from train personnel.
As a motorist or pedestrian, the following safety tips can help avoid train accidents:
Never try to beat a train.
Obey all signals and warnings
Be mindful of the second track -- make sure all tracks are clear before crossing.
Trains can run at any time and from either direction, so do not make assumptions about the likelihood of a train being on the track.
Only cross a railroad track at a designate crossing.
If you or a loved one has been involved in a train accident and would like to discuss your legal rights with one of our award-winning lawyers, call us anytime at 615-742-4880 or toll-free at 866.812.8787 or fill out this form and we will call you to discuss your case, answer your questions and clearly explain your legal rights.