Tennessee's Recreational Use Statute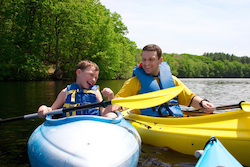 The Tennessee Recreational Use statute provides that landowners or anyone else in control of the land or premises (such as a renter or occupant) shall have no duty of care to keep the land or premises safe for use by others for recreational activities. The statute provides a number of activities as examples:
Hunting
Fishing
Trapping
Camping
Water Sports
White Water Rafting
Canoeing
Hiking
Sightseeing
Animal Riding
Bird Watching
Dog Training
Boating
Climbing
Skeet and Trap Shooting
Skiing
Off-Road Vehicle Riding
Cutting and Removing Wood
However, this list is not exhaustive. Other activities could be considered to be a "recreational activity" under the law. In addition to the fact that the landowner has no duty to keep the land safe, the landowner also has no duty to give any warning of any hazardous conditions.
The application of this law can be somewhat confusing as it has to be the land or premises which causes the injury, so here are some examples of how the recreational use statute applies: A child who is injured riding on bike trail could not successfully assert a claim against the landowner for negligently creating or maintaining the bike path. The recreational use statute would be a defense to such a claim. On the other hand, if a person drowns when a boat capsizes due to the actions of the captain, the recreational use statute would not prevent the claim because the death was not caused by an unsafe or dangerous condition of the land or premises. In short, the fact that an injury or death occurs while engaging in a recreational activity is not enough for the law to apply. The injury or death must occur because of the condition of the land or premises.
Like almost every other thing in life, there are exceptions to this general grant of immunity. So, if you or a loved one was injured while participating in a recreational activity and would like to discuss the application of this statute to your claim, call one of our award-winning lawyers at 615-742-4880 or toll-free at 866.812.8787 for a free, no-obligation consultation. Or, if you prefer, simply fill out this online form to set up a consultation. We handle all accident cases on a contingency basis so we only get paid if we recover money for you. For more information on our fees and how we handle case expenses, click here.