Agri-Tourism Immunity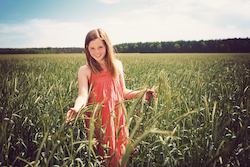 The agri-tourism statute was part of the wave of so-called "tort reform" legislation passed since 2008. The purpose of the statute is to limit the liability of those in the agri-tourism business. So, what is agri-tourism? As defined by the statute, agri-tourism means: "any activity carried out on a farm or ranch, eligible for greenbelt classification... , that allows members of the public, for recreational, entertainment or educational purposes, to view or enjoy rural activities including farming, ranching, historic cultural, harvest-your-own activities or natural activities and attractions." For example, for those of you in Middle Tennessee, Gentry's Farm which hosts school field trips each year would be considered agri-tourism.
Now that you know what agri-tourism is, let's talk about what immunity is provided to those engaged in agri-tourism. Under Tennessee law, agri-tourism businesses are not liable for injury or death of a participant resulting solely from the inherent risks of agritourism activities. For example, if a child at summer camp on a farm is trampled to death by a herd of cows that suddenly became spooked, the agri-tourism business will most likely not be responsible unless one of the exceptions below applies.
There are a few exceptions to the agri-tourism immunity. First, the immunity does not apply unless the business has posted signs which comply with the law. Second, the immunity does not apply if the agri-tourism business acted recklessly, willfully, wantonly or intentionally. It only applies to negligence. The immunity also does not apply if the agri-tourism business had actual knowledge or reasonably should have known of certain dangers associated with the land or an animal but does not warn the participant who is ultimately injured by the danger. Finally, the immunity does not apply if the agri-tourism business fails to properly train its employees and the employee causes the injury or death to the participant.
If you or a loved one has been injured while visiting a farm or ranch and would like to discuss your case with one of our award-winning lawyers in a no-cost, no-obligation consultation, simply call us any time at 615-742-4880 or toll-free at 866.812.8787 or fill out this online form and we will call you. We handle all accident cases on a contingency basis so we only get paid if we win. For more information on our fees and how we handle case expenses, click here.