How Did the Accident Happen and Who is to Blame?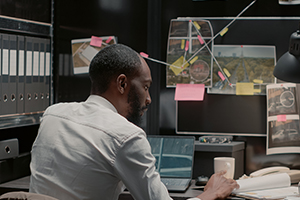 For more than 30 years, our talented team of wrongful death lawyers have relentlessly investigated accidents to determine the details of the accident and who is to blame. For instance in a car, motorcycle or truck accident case, the following are just some of the types of materials we might obtain during our investigation:
The police report, police photos and all other available materials from the appropriate law enforcement agency;
The 911 dispatch tapes;
All EMS and other medical records;
Witness statements from interviews conducted by our attorneys;
Scene photographs;
Photographs of the accident vehicles, defective product or other mechanism of injury;
Installation and/or maintenance records;
Background checks on the other individuals involved in the accident;
Reports on any prior accidents or complaints;
Accident reports by the company involved in the accident;
Inspection records;
Video footage from any security cameras
Licensure information
Black box data
Log books, driver files, trip tickets, fuel receipts, bills of lading and other trucking accident related documents
We have a nurse on staff full-time to assist with medical issues, and we also work with highly-qualified experts in the fields of accident reconstruction, engineering, biomechanics, medicine, life care planning, economics and more.

Of course, we do not just handle car, motorcycle and truck accident cases, and so the investigations we do will vary depending upon the case. For example, the investigation in a medical malpractice case will be different from a dog bite case or a Legionnaire's disease case. But the process and goal will be the same: we will dig into the facts of the accident until we are satisfied that we know what happened and who is to blame.

An early investigation is critical so that that key evidence can be discovered and preserved. Witnesses move or their memories fade. Documents are lost or are destroyed. Physical evidence like skid marks at the scene of an accident disappear with weather and time. Vehicles are sold for salvage by insurance companies. In short, the longer you wait to hire an attorney to help you gather evidence the greater the likelihood that essential evidence will be lost.

At the Law Offices of John Day, our award-winning attorneys are skilled investigators and we will not rest until we understand how the accident happened and who is to blame. We handle all accident cases on a contingency basis so we only get paid if we recover money for you. In addition, in an effort to eliminate for you the financial burden of pursuing your legal rights, we advance all cases expenses interest-free.
If you would like to talk to one of our experienced wrongful death attorneys about an accident or potential claim, we offer a free initial consultation so that you can understand your legal options. To get started, simply contact us online or call us at one of our convenient Middle Tennessee locations. While our offices are located in Tennessee, we handle wrongful death cases anywhere in the State and we are always happy to come to you. Call us at:

Nashville: 615-669-3993
Brentwood: 615-742-4880

Murfreesboro: 615-867-9900
Toll-Free: 866-812-8787