If Money is Recovered, Who Gets It?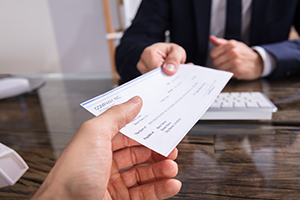 If a claim is made or a lawsuit is filed following the death of a loved one in an accident, who is entitled to receive the money? Many of our clients are surprised to learn the law, rather than the decedent's will, dictates who will receive any funds recovered from a wrongful death claim. In other words, the money from the lawsuit is distributed as if the decedent did not have a will and pursuant to the dictates of the statute. Below are the most common scenarios:
If the decedent is married at the time of death, the spouse is entitled to all of the proceeds from the wrongful death suit.
If the decedent was married with children, the money is divided equally between the surviving spouse and children with a caveat: the spouse is entitled to at least one-third of the recovery. For example, assume the decedent was married with four children, the surviving spouse would receive one-third of the proceeds and the four children would divide the remaining two-thirds amongst themselves.
If the decedent was not married and did not have any children, his or her parents are entitled to all of the money from the lawsuit.
Other, more complicated issues can arise. Under limited, unusual circumstances, siblings of the decedent can recover wrongful death proceeds. Or, a parent who has not paid child support or had a relationship with a deceased child may lose his or her right to recover wrongful death proceeds.
If you have questions regarding how the proceeds of a wrongful death lawsuit are distributed, one of our award-winning lawyers will be happy to answer your questions and guide you through the legal issues in a free, no-obligation consultation. If we think you have a case and you decide to hire us, we handle all wrongful death cases on a contingency basis, which means we only get paid if we successfully recover money for you and your family.
Before hiring any lawyer, including us, we encourage you to do appropriate research. In our FAQ pages, we have information on How to Select the Right Injury Attorney, How to Prepare for a Meeting with an Injury Attorney and much more to help potential clients understand some of the important issues prior to hiring an attorney. At the Law Offices of John Day, we are proud of our reputation so we also encourage you to review what our former clients have to say about our firm in their testimonials as well as in their Google and Facebook reviews. Finally, if you know a lawyer or a judge, ask them about us or any other lawyer you are considering hiring.

After you have done your homework, it is time to get started. To do that, you can either contact us online or call us at one of our Middle Tennessee office locations. While our offices are physically located in Middle Tennessee, we handle wrongful death cases throughout the State of Tennessee, and we will gladly come to you if it is inconvenient for you to come to our offices.

Nashville: 615-669-3993
Murfreesboro: 615-867-9900
Brentwood: 615-742-4880
Toll-Free: 866-812-8787