Defective Bicycle Helmets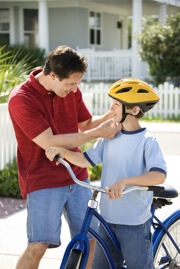 In the event of a bicycle accident, your helmet is supposed to help prevent a serious head or brain injury. In fact, the Bicycle Helment Institute estimates bicycle helmets reduce the risk of a head injury by roughly 85%. But sometimes, the helmet is defective and fails to offer the needed protection. For instance, in May of 2011, Bell Sports recalled some of its bicycle helmets due to defective chin straps which allowed the helmet to come off in an accident. More recently, in January of 2012, Triple Eight Distribution recalled its helmets because they failed to meet the Consumer Product Safety Commission's safety standards for impact protection.
If you have been involved in a bicycle accident and you sustained a serious head or brain injury despite wearing a bicycle helmet, your helmet may have been defectively designed or defectively manufactured. You should keep the helmet and, if you still have it, any literature or packaging that came with it. And then you should contact one of our experienced bicycle accident attorneys at the Law Offices of John Day. We will thoroughly review your case and advise you of your rights. We work with highly-qualified experts who can test and evaluate your helmet to help determine if it is defective under Tennessee law. And our on-staff nurse can assist with the medical issues and questions surrounding your injury.
We handle all defective bicycle helmet cases on a contingency basis, which means we do not get paid unless we recover money for you. And, our experienced bicycle accident attorneys know how to get results. We have recovered more than $100 million dollars for our clients, and we would like to help you and your family too. If you would like to discuss a potential claim, please contact us online or call us at 615-742-4880 or 866.812.8787 for a free, no-obligation consultation. If your injuries prevent you from coming to our office, we will gladly come to you at the hospital or your home.